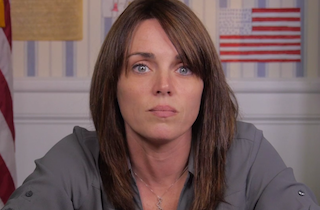 Governor Andrew Cuomo (D-NY) has a double-digit lead over his Republican challenger, Rob Astorino, heading into Election Day next Tuesday. But that hasn't stopped the incumbent from keeping the attack ads going strong. This week, the Republican's wife, Sheila Astorino, evidently decided she had had enough, releasing a video online in which she denounces some of Cuomo's most recent ads involving guns in the classroom.
"I have to speak out about the ugly and dishonest ads Governor Cuomo has been running," Astorino says in the video, after identifying herself as non-political school teacher. "Governor, you've got to be kidding me," she continues, saying her children have had to stop watching television to avoid seeing Cuomo "throw mud at their father."
"You've really gone too far for this mom and school teacher," Astorino says. "Telling people my husband wants guns in classrooms? Guns in classrooms? You can't be serious. You used an extracurricular rifle safety program in a rural upstate county to make it sound like Rob would threaten the safety of school children.
"How dare you? How dare you try to scare parents and teachers with something as serious as that?" she asks. "What you are doing is unforgivable."
Watch video below, via Vimeo:
Sheila Astorino: Cuomo's Dishonest Attack Ads are Unforgivable from Rob Astorino on Vimeo.
The television ad in question, titled "Safety," contrasts Cuomo's gun safety record with Astorino's "ultraconservative" opposing views and includes the charge that the Republican "supports gun programs for kids in schools." The ad cites an August report from Time Warner Cable News in which Astorino expressed support for a program that would "get gun programs back into Sullivan County schools."
In response to the video from Sheila Astorino, a spokesman for Cuomo's campaign said in a statement, "We encourage Mrs. Astorino to ask her husband about his support for programs that teach teens with discipline problems how to use guns."
Watch the ad below, via YouTube:
[Photo via screengrab]
— —
>> Follow Matt Wilstein (@TheMattWilstein) on Twitter
Have a tip we should know? tips@mediaite.com