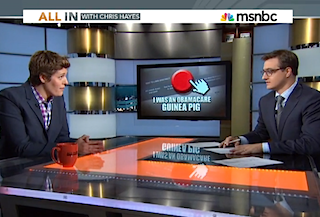 When former Fox News contributor Sally Kohn wanted to tell her story about successfully signing up for Obamacare, she was given some space on the network's website. But when it came time to share her account on TV, Kohn had to go to the enemy: MSNBC. Kohn has appeared as a liberal voice on Fox's The O'Reilly Factor, but last night she found herself talking to Bill O'Reilly's 8pm competition Chris Hayes.
Hayes began his segment Tuesday night by acknowledging his "surprise" at seeing Kohn's success story published on FoxNews.com, which has dedicated far more space to the Obamacare website's problems. The story led to what has to be one of the only instances of President Obama tweeting out a link to Fox News: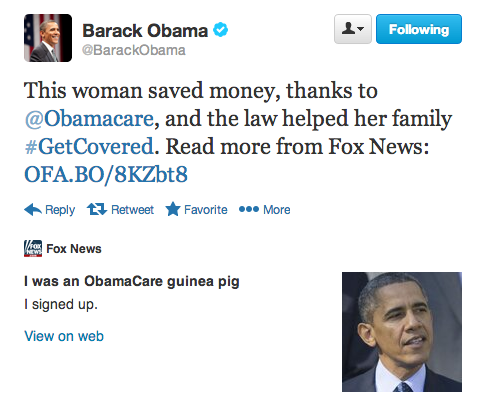 Kohn explained to Hayes that as a New Yorker she has the "privilege of being in a state where our state government has not tried to sabotage the implementation of Obamacare." She described the "crummy" insurance she has had up until now and also admitted that the process for signing up for a new plan on HealthCare.gov was not an easy one. "The website stinks, it's an abomination" Kohn said bluntly. "But it took a while to get Amazon.com working as well."
After about a week of trying, Kohn was able to get through the registration process and found 50 plans that were more affordable than what she was currently paying. "Is it Christmas?" she remembers thinking. "I mean, it's kind of awesome." Before Obamacare, Kohn said she had to go to each individual private insurance company website, which actually took much longer. "Even with the website glitches," she said, "it took me about four hours total [once she was able to log in] to save over $5,000."
Kohn's story is unique because she's a journalist, but since she's not employed full time by Fox (or any other cable network) she is also someone who can benefit significantly from the Affordable Care Act. But by telling her story on MSNBC, she's both preaching to the choir and reaching less than half of the people she would on Fox News. Bill O'Reilly has had Kohn on his #1 cable news show to stick up for gay college students and Megyn Kelly has invited her on to defend Michelle Obama. So why didn't any Fox shows want Kohn to discuss her Obamacare success story on their air?
While every news outlet is sending its own reporters, who don't even need health insurance, to the Obamacare website to prove how useless it is, here Fox News had one of its own former contributors, who wrote about her story for their website, with a genuinely positive experience. Kohn didn't sugarcoat the process, but she did humanize the value of the outcome. Hers was a story that Fox News viewers deserved to see.
Watch video below, via MSNBC:
[photo via screengrab]
[Ed. note: This post has been updated to reflect that Kohn is no longer a paid contributor on Fox News.]
— —
>> Follow Matt Wilstein (@TheMattWilstein) on Twitter
Have a tip we should know? [email protected]