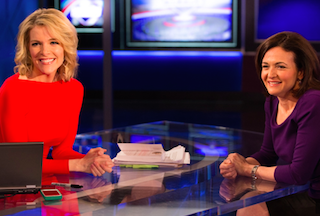 Remember when Megyn Kelly took Lou Dobbs and Erick Erickson to task for their comments about women in the workplace? Sheryl Sandberg sure does. That now-infamous Fox News clip was the first thing the Facebook COO and Lean In
author wanted to talk about when she appeared on The Kelly File last night.
Kelly mentioned the debate with Dobbs and Erickson at the top of the pair's conversation when Sandberg interrupted her, saying, "which is how we met." She explained, "I loved it so much I just called you to congratulate you." After Kelly aired a short clip of the original exchange, Sandberg added, "So I loved this so much that I called you and we became friends over it, and I was really impressed that you did it."
Sandberg went on to describe how the "guilt" that women feel for not being about to "do it all" is a big part of her book and mini-movement it has launched. Kelly agreed, saying, "We have to stop shooting for having it all and just shooting for what's reasonable, what we can reasonably accomplish in our work and our home lives. In a way we have to set the bar a little lower for ourselves, so we don't make it i must be firing on all cylinders at all times."
"As women, we can constantly feel like we're not doing anything enough and that's what needs to change," Sandberg added.
Watch video below, via Fox News:
And watch the original showdown between Kelly, Erickson and Dobbs below, via Fox News:
[photo via Fox]
— —
>> Follow Matt Wilstein (@TheMattWilstein) on Twitter
Have a tip we should know? tips@mediaite.com