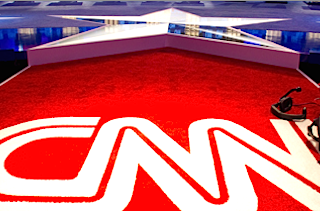 In one fell swoop Wednesday morning, we learned both that Rupert Murdoch''s 21st Century Fox had offered to pay $80 billion for CNN parent company Time Warner and that the deal was quickly rebuffed. In other words, Brian Stelter is not going to need to eat his copy of the New York Post anytime soon.
Of course, as first reported by The New York Times' DealBook, there was likely no scenario in which Murdoch would have put Fox News and CNN under the same roof, so to speak. He wanted Time Warner for its Warner Bros. movie studio and cable channels like HBO, TBS and TNT. Not for a cable news network that has at times over the last year struggled to maintain its third place ratings behind Fox News and MSNBC.
No, if Fox's deal with Time Warner had gone through, they likely would have had to find another buyer for CNN. The Times' Andrew Ross Sorkin and Michael J. de la Merced explain:
As part of the proposal to buy Time Warner, people briefed on the proposal said, 21st Century Fox indicated that it would sell CNN to head off potential antitrust concerns since Fox News competes directly with CNN. Putting CNN on the auction block would likely stir up a bidding war for the news channel; both CBS and ABC, a unit of the Walt Disney Company, have long been viewed as interested suitors.
Of the big three broadcast networks only one — NBC — has a cable news network: MSNBC. ABC has a strong sports outlet with its ESPN connection (both are owned by the Disney-ABC Television Group). Meanwhile, CBS has to make do with just Showtime. Both networks would likely benefit from a relationship with CNN, but perhaps more importantly, CNN would benefit from access to those stations' news divisions.
Whatever you think of the network's politics, MSNBC's relationship with NBC News is clearly beneficial. NBC does a lot to grant MSNBC gravitas, especially during major news events. Whether it's Brian Williams stepping into the fray on Election Night or Pete Williams giving added investigative insight into a story like the Boston Marathon Bombing, NBC News helps elevate MSNBC above its politically partisan platform when it counts.
While CNN doesn't any major roadblocks in terms of its political leanings, it certainly has its own brand challenges. In many ways, the Jeff Zucker era that began at the beginning of last year has turned CNN into a punchline, effectively erasing its reputation as a reputable source for news 24 hours a day. Imagine what the influence of a company like ABC or CBS could do to help people take CNN a bit more seriously.
ABC News is currently riding high, regularly beating perennial ratings-leader NBC both in the morning and the evening. Diane Sawyer recently announced she would be giving up her role as the anchor of ABC World News to conduct bigger one-off interviews. Why couldn't some of those air as CNN specials? The merger would also make S.E. Cupp's potential move from CNN to The View that much smoother.
CBS doesn't have quite as much to bring to the table in terms of morning and evening ratings, but they do have the powerhouse that is 60 Minutes. Perhaps CNN could start airing extended versions of stories that air on the program, embracing longer-form newsmagazine-style journalism in a way they haven't before. The Anderson Cooper connection is already in place. And really, who doesn't want to see Charlie Rose moderate a presidential debate?
Unfortunately, it now seems that unless Disney/ABC or CBS Broadcasting want to buy all of Time Warner — at a cost of more than $80 billion — the chances of either company scooping up CNN alone are slim. The only other potential buyer mentioned in the Times report is Google, and they would have no antitrust reason to scuttle CNN.
It's a shame. As CNN descends into more and more so-called "reality" programming, the amount of informative, fair-minded TV news is dwindling. A takeover by ABC or CBS could have been just what CNN needed to bring back at least some of its former glory.
[Photo via CNN]
— —
>> Follow Matt Wilstein (@TheMattWilstein) on Twitter
Have a tip we should know? tips@mediaite.com