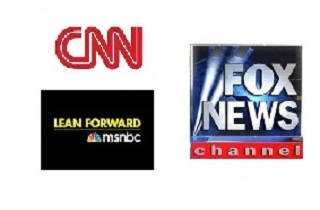 Friday marked the halfway point in Black History Month, the shortest of all history months. We began the month by examining how black people were represented on cable news for a single day in the life of that medium. Today, we look at how Fox News, MSNBC, and CNN (along with sister network HLN) celebrated Black History Month for the first half of the month.
Black History Month is a lot of territory to cover in just 28 days. Begun in 1926 as Negro History Week, Black History Month was first recognized by the U.S. government in 1976, and its purpose has always been to correct the under-representation of black Americans in mainstream historical narratives.
An examination of how the major cable news networks have observed the occasion thus far yields some surprising results. Although these snapshots tell a story that may confirm some of what people already believe, they also show that cable news' treatment of Black History Month, in its varying depth and breadth, has very little to do with history, and everything to do with finding a contemporary peg. Few, if any, of the names you might have learned from previous Black History Months have been featured this year, at least not so far. Instead, the focus has been almost exclusively on modern black figures and issues. These results are based on searches of multiple cable news transcription databases, and review of video footage archives.
Here is how Fox News, MSNBC, CNN, and HLN have observed the first half of Black History Month:
[imageviewer id=1911]
Have a tip we should know? tips@mediaite.com