How I Witnessed the End of Obama's Honeymoon on the Today Show (With My One Eye)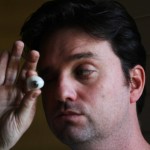 I met Howard Dean on the Today show recently, right when Obama's honeymoon started ending.
I was there to do an interview with Meredith Viera about how I am turning my prosthetic eye into a wireless video camera. This is a fairly big deal for a little Canadian cyborg because the Today show is the number one morning show in America, and Meredith is # 26 on the Mediaite Power Grid, just ahead of Larry King, last time I checked.
It was June 18th, and a poll had just come out in the New York Times with the headline "Obama Poll Sees Doubt on Budget and Health Care." Dean had a new book out about health care, Howard Dean's Prescription for Real Healthcare Reform, so he was on to promote his book but also to defend Obama's new dip in the polls.
Howard was plunked into the green room with myself and Kosta Grammatis, the 23 year old whiz kid who has been helping me build the camera eye. Kosta had no clue who Dean was, and to my horror, casually shook Dean's hand like he was a lowly self-help guy.
Watch Dean's interview here.
There Howard was, just feet away from me and looking very natty in his cream suit. I actually thought he was much more handsome in real life and I was suitably intimidated. I mean this guy could have been president! We were munching stale bagels together and his eyes were so blue.
"Its an honor to meet you sir," I said before he dug himself back into the New York Times. No doubt boning up on the article about Obama.
A month before I went to New York, Kevin Tibbles, an NBC correspondent, was assigned to interview me in Toronto for a short piece that would be shown before my live interview on the Today show. An ex-Toronto boy, he showed up with a friendly two-guy crew and a smoke machine. Clearly they understood my Eyeborg style: Immature and high-tech super-hero fantasy come to life.
Kevin clearly enjoyed playing the "Six Million Dollar Man" board game with me and took me and the crew out for beers after the interview. Regaling me with journalism stories from his long career, he quoted me his new favorite expression from his son's hockey coach: "Harden the fuck up."
Kosta and I would soon need to follow this wise maxim.
I had arrived in New York a day early, checked into the hotel near NBC for pre-production, and finally figured out what 30 Rock means. Ohhhh, 30 Rockerfeller Plaza is the address of the NBC in downtown New York. The producer assigned to me smiled politely when I pointed out this oh-so-obvious revelation. Yes, I was ready for big time media exposure.
It soon became clear that the Today show producers had assumed that I would be doing a live shot of my Eyeborg point-of-view. In other words, that I would debut my camera eye working during my live interview. I sheepishly informed them that I couldn't do that even if I wanted to because I didn't have the eye quite done. The camera-eye works, but I might crush it if I stuff it into my two-part prosthetic without some custom work. I did, however, point out that I could rig up my red LED light eye that makes me look just like the Terminator.
This was met with a very quiet non-plussed kind of patient look. Four hours later, while ordering Sushi on the Today show's dime, we got a call.
"Sorry, you are off the show. Enjoy your stay in New York. Sorry for the confusion."
Damnit, why did I tell everyone to watch the show on Facebook? My mom had told all her friends and everything. Gawd.
"Ah well," I said to Kosta, hardening the fuck up, "Let's just have a good time in New York."
Kosta and I finished eating somewhat dejectedly and paid the bill. Wait a minute! It was the Today show calling back!
"Ok, you're back on but its not at 7:30 its just after 8:00 now [in other words, not the highest rated time slot anymore] and your live interview is down to three minutes instead of six. And there isn't enough time for Kosta to be interviewed as well anymore. It'll be just you."
You do not want to tell a 23 year old engineer that has volunteered hours and hours of his time to your weird eyeball project that he isn't going to be on the Today show anymore. Kosta was not happy and I got the auld glare for the next 48 hours. I almost told him to harden the fuck up but I figured that wouldn't be such a hot idea.
The next day, shortly after we had met Howard Dean, we had to start prepping the red LED light eye. It requires soldering a freshly powered battery to a an LED light and placing it in the eye. So we have a soldering iron and cleaning materials for the prosthetic eye and a power supply. It's a bit of a production and the key is not to make it too soon or the battery will run out prematurely. We were informed that it would be better to do it outside of the green room where we wouldn't freak people out jamming weird components into my eye socket. The solution became using Ryan Reynold's private dressing room before he arrived. (I can't help it, I just gotta say – he is a Canadian!).
See Ryan's interview here.
"Ah," I noted. Howard Dean gets schlepped in with the Eyeborg crew in the main green room but Ryan Reynolds gets his own dressing room.
Never mind, we set about the task of building the Terminator eye with not much time left. We were almost done when Ryan's people informed everyone that he was about to arrive.
Out of the dressing room we went. New location for building the Terminator eye: The make-up and hair area. Meanwhile, young female staff on the Today show were heard to say: "Omigod,….he….is…so……gorgeous."
The interview went well and Tibbles and company totally got my pseudo-serious claims that I am super-hero. Meredith was charming and interested and overall I couldn't be more pleased with the way my Today show experience went.
Since then I have been thinking of moving to New York but Howard Dean got me thinking about health care in the States. I read this study after his interview – Harvard researchers say 62% of all personal bankruptcies in the U.S. in 2007 were caused by health problems—and 78% of those filers had insurance.
I dunno, it just seems crazy and scary to me, as a guy who has had to have five eye operations, that even if I get health insurance, I am pretty much screwed if I ever need to get health care. I would most likely be personally bankrupt right now if I had been an American. What the hell are Americans thinking I wonder? Is it millionaire journalists that are telling America that private health care is a great option? Like WTF is going on? I don't get it. But I'm just a dumb little Canadian cyborg I guess.
Obama's honeymoon is over. Getting health care through won't be easy. Maybe the public health care forces should harden the fuck up and ram it through.
Rob Spence is a director and producer in Toronto, Canada whose work has appeared on Discovery, Vision, Space TV and the CBC (Canadian Broadcast Corporation), for which he made the controversial documentary, Let's All Hate Toronto. Currently, he is in development on a documentary about how video and humanity intersect escpecially with regards to surveillance. That's where the whole cyborg thing comes into it. Learn more about the Eyeborg here.
Have a tip we should know? tips@mediaite.com