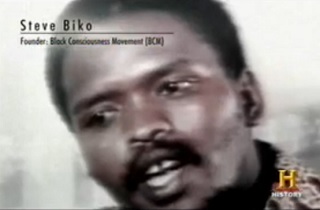 The death of global civil rights icon Nelson Mandela this week has sparked hours of coverage, including some welcome (and unwelcome) revisitation of Apartheid's history and impact. While the lion's share of the coverage has rightly focused on the life and legacy of Nelson Mandela, the retelling of Apartheid's history has also included many important touchstones and leaders in the struggle against South Africa's white supremacist government, save one conspicuous omission: Steve Biko.
Even as cable news networks, to varying degrees, recounted important milestones like the Sharpesville Massacre, Nelson Mandela's imprisonment, the Reagan-ea politics around sanctions against South Africa, and to a much lesser extent, the Soweto Uprising, even as white apartheid figures like P.W. Botha and F.W. de Klerk were written into cable news' remembrances of Mandela's lifelong struggle, the name of Stephen Bantu Biko was not uttered. According to the TV Eyes television transcript database and the Internet Archive TV database, Biko was not mentioned once by any of the cable news networks this week.
In fact, the only mention of Biko at all on cable television came from this clip of The History Channel's rebroadcast of Miracle Rising: South Africa (you can see the full broadcast here):
Anyone in the U.S. who is old enough to remember the rise of the anti-Apartheid movement here already knows the name Biko, knows that aside from having been a longtime anti-Apartheid activist, his brutal slow killing at the hands of police became a powerful global symbol of the South African Apartheid regime's brutality and oppression. In the aftermath of the Soweto Uprising, police arrested Biko on August 18, 1977, and after weeks of imprisonment following his brutal torture and interrogation, he died on September 12, 1977. His death became yet another symbol, along with Nelson Mandela's imprisonment, of the government's oppression, and his name became a rallying cry.
It's difficult to understand why Biko has been left out of the histories being told by the media this week, when such a wide net has been cast otherwise, but here's some of what Nelson Mandela had to say about Steve Biko, whose death broke through the walls of Mandela's prison cell, on the twentieth anniversary of Biko's death:
We are gathered here to pay homage to one of the greatest sons of our nation, Stephen Bantu Biko. His hope in life, and his life of hope, are captured by his resounding words: "In time, we shall be in a position to bestow on South Africa the greatest possible gift – a more human face".

And so we are assembled here to pledge our commitment to that ideal; the hope of a giant bequeathed to our land by a region that has down the centuries spawned men and women of outstanding qualities, leaders who have proved themselves in the most testing conditions. It has nurtured a tradition of uncompromising struggle unbroken from the days of Hintsa; through Enoch Sontonga, Vuyisile Mini, Matthew Goniwe, Ford Calata, Sparrow Mkhonto; to Griffiths and Victoria Mxenge – to name but a few. Many of them were butchered with a cold disregard for life by agents of a doomed regime.

Today's occasion speaks of our resolve to preserve the memories of our heroes and heroines; to keep alive the flame of patriotism which burnt in the hearts and minds of the like of Steve Biko; to redeem the pledge to give a more human face to a society for centuries trampled upon by the jackboot of inhumanity.

In eulogies to the departed, the works of the living sometimes bear little relation to reality.

Yet what has been said about Steve Biko, what passed through the walls of Robben Island and other prisons along our political grapevine, has stood the test of time. That he was indeed a great man who stood head and shoulders above his peers is borne out not only by the testimony of those who knew him and worked with him, but by the fruits of his endeavours.

History called upon Steve Biko at a time when the political pulse of our people had been rendered faint by banning, imprisonment, exile, murder and banishment. Repression had swept the country clear of all visible organisation of the people. But at each turn of history, apartheid was bound to spawn resistance; it was destined to bring to life the forces that would guarantee its death.

It is the dictate of history to bring to the fore the kind of leaders who seize the moment, who cohere the wishes and aspirations of the oppressed. Such was Steve Biko, a fitting product of his time; a proud representative of the re-awakening of a people.
Unlike Nelson Mandela, Steve Biko never lived to see the fruits of his sacrifice, and in fact, died without knowing it would ever be redeemed. It's impossible not to wonder if Biko had any hope as he slowly died in prison, but he gave hope and strength to Nelson Mandela, who did not forget him. Neither should anyone else.
Have a tip we should know? tips@mediaite.com