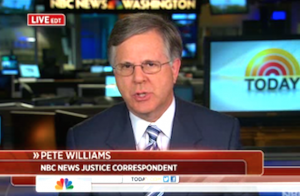 Few would argue that NBC News reporter Pete Williams is one of the best newsmen in the field out there. The examples of his fine work over two decades are substantial, but many viewers know him best–particularly younger news viewers — for his outstanding reporting after the Boston bombings in 2013, when a four-day manhunt gripped a stunned nation.
Throughout that manhunt, many big-time news outlets got more than a few things wrong where in the race to be first trumped a need to be accurate (a race fueled by the speed and unfiltered speculation on social media). CNN's John King — a Boston native — was particularly pummeled by his own brethren (and even himself) upon reporting two days after the attack that a "dark-skinned" suspect had been identified and an arrest had been made (a story that was quickly shot down by authorities). But King was singled out because beating up on CNN — which was held to a higher standard when it came to breaking news–was fashionable. Largely overlooked was the Boston Globe, AP and FoxNews.com all reporting the same thing around the arrest.
Standing out from the crowd was Pete Williams, who insisted no arrest had been made on NBC, MSNBC and Twitter. From there, it was basically the Pete Williams show despite the competition created via a massive media convergence, who broke news time and again. Remember, he was one of the first to report Tamerlan Tsarnaev had been killed after a firefight led to his own brother trying to escape and accidentally running him over in the process. He was also the first to say that the Tsarnaevs had overseas connections. And he was first in reporting that they told the convenience store clerk (whose car they stole while kidnapping him) that they were responsible for the attack, as well as the first to confirm that the suspects were related.
Not a bad week. At one point throughout all the mayhem, "NBC Pete Williams" was trending worldwide on Twitter. The reviews afterward were rightfully glowing: Columbia Journalism Review praised him for having "led the national reporting with solid, authoritative reports." Politico's Dylan Byers wrote that "On a major story that has been defined by inaccurate and conflicting reports and wild speculation, Williams has been calm, diligent and correct." And in the National Journal: "Experience, deep background knowledge, and, most of all, restraint in not jumping too far into conclusions, is what propelled Williams to a worldwide trend on Twitter this morning."
So it was shocking — and the term isn't used lightly in this space — to see Williams get it so wrong last night on a report that a suspect in the Charlie Hebdo terror attack had been killed and two others were in custody, which he reported citing U.S. officials: "Authorities identified the three men as Said Kouachi and Cherif Kouachi, both French and in their early 30s, and 18-year-old Hamyd Mourad, whose nationality wasn't immediately clear."
Given Williams' reputation over a 20-year career as a justice correspondent after leaving the Bush (41) White House where he served as Assistant Secretary of Defense under Dick Cheney, the arrest story–which was very specific since it included both names and nationalities–was one that undoubtedly prompted the media landscape to either kick themselves for getting beat by Williams during another huge terror manhunt story again, or to move faster with what they had from there.
In regards to the latter, for example, Fox News' Greg Palkot, a solid reporter in his own right, carefully reported the same but wisely attached a "not confirmed" disclaimer on Greta Van Susteren's program by saying that, "We're getting reports, unconfirmed reports, that the manhunt for the three people involved in this brutal attack might be in custody and dead," before adding again, "We don't have that confirmed." Though that's still a flimsy report.
Would Fox have gone ahead with that report if not for the Williams exclusive going viral 30 minutes earlier? Who knows? A little later, Williams submitted what could be generously called an awkward retraction–the kind that can suck the confidence right out of a reporter's reputation, albeit temporarily–when he said this to Chris Hayes on MSNBC 90 minutes after the initial report:
"I think we can't say with 100 percent certainty what the deal is over there right now, there are conflicting reports is I think the honest answer."
Williams' online report currently up sums it all up: : "Confusion as French Hunt Magazine Attack Suspects."
NBC/MSNBC now knows how John King and all of those other outlets felt like after getting it wrong in Boston 22 months ago. Nobody's infallible.
Even an old pro like Pete Williams.
— —
>> Follow Joe Concha on Twitter @JoeConchaTV
Have a tip we should know? tips@mediaite.com