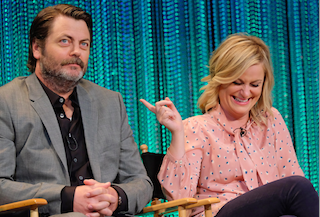 Tuesday night in Hollywood, the (nearly) full cast of NBC's Parks and Recreation sat down to discuss the history and future of the show as part of PaleyFest 2014. Moderator/comedian/guest star Patton Oswalt covered a lot of ground with the large group, but one of the most insightful moments came near the beginning of the panel when creator Michael Schur discussed the initial genesis for the show, and how, to him, it's a model for how people in this country should learn to co-exist.
Schur said it goes back to the classic notion the people vote Republican when they want a father figure and Democrat when they want a mother. In his intentionally simplistic reduction, Republicans are more "stern" and "like war" while Democrats "want poor people to have food."
While he said he doesn't entirely agree with that sharp division, it does represent the characters of Leslie Knope, played by Amy Poehler, on one side, and Ron Swanson, played by Nick Offerman, on the other. While the liberal Leslie thinks government can solve every problem, the libertarian Ron is essentially trying to sabotage the government from within.
"We just wanted to say, like, 'All right, one guy can have one set of extremely fervent beliefs that run completely counter to the beliefs of his coworker and they can still just get along and respect each other and admire each other and find things in common,'" Schur told the crowd. "And they can sit down and have a glass of whiskey together at the the end of a long night."
Poehler agreed, saying the Leslie and Ron relationship was the easiest way in for the audience from the beginning — two clear-cut characters who could stand in opposition on issues but still find a way to get along. She compared them to Mary and Lou Grant from The Mary Tyler Moore Show.
While Schur insisted that romance was never in the cards for Ron and Leslie, Poehler did tell the audience that every season she and Offerman do a scene in which they make out for the gag reel. "We never put it on the gag reel because it's super disturbing," Schur said. "It's like watching your parents go at it super hard."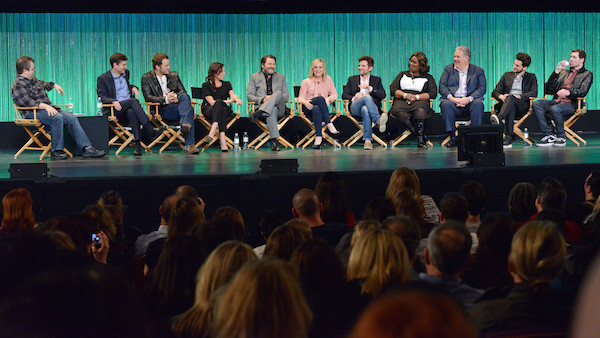 The cast and creator of Parks and Recreation at PaleyFest 2014
Later in the discussion, the cast dropped a few tiny hints about this season's finale, which will feature a cameo from First Lady Michelle Obama. "The stuff that happens in that last episode is bonkers," Poehler revealed, saying she has no idea how the writers are going to figure out how to pick things up again for the seventh season. "It ends with a lot of change. A lot of change."
As for the eventual end of the series, Poehler doesn't even like to think about. "I don't even want to think about the ending," she said, "but it's coming."
The evening ended with a screening of Patton Oswalt's infamous, improvised 8-minute Star Wars-themed filibuster from season five of the show. It's a true thing of beauty that perfectly captures Parks and Recreation's view of small-town government in America.
Watch video below, via NBC:
[photos via Kevin Parry for Paley Center for Media]
— —
>> Follow Matt Wilstein (@TheMattWilstein) on Twitter
Have a tip we should know? tips@mediaite.com