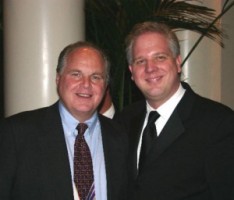 Is Glenn Beck a Rush Limbaugh fanboy? It certainly feels that way. Between the glowing things he's written about him, the admiration he's expressed in interviews, and their buddy-buddy banter on TV, his fanboydom rings clear.
Being a fan is one thing; being a follower is another. Has Glenn Beck consciously modeled himself on Limbaugh — and if so, does he have Limbaugh to thank for his surging success?
Beck wrote Limbaugh's profile for the Time 100 list this year, and he showed nothing but reverence for him:
"No matter how many new technologies pop up, nothing will ever surpass the intimacy of radio. And nobody will ever be better at utilizing it than Rush. His consistency, insight and honesty have earned him a level of trust with his listeners that politicians can only dream of….

Knowing firsthand just how hard it is to hold an audience's attention for a few hours makes it that much more amazing to have seen Rush do it for more than 20 years. To say that he has set the standard for success in broadcasting would truly be an understatement."
As incredible as it is to contemplate, Glenn Beck has only been on TV for a little more than 3 years. Before that, he was a radio man, and Rush's influence on him in that department is clear. He told The Daily Beast that "I think I do something extraordinarily different than Rush. Rush is political thought, I am a guy who's part rodeo clown. I don't pretend to be able to plan movements of the parties and the presidents and everything else," but that's all part of the act. Limbaugh pioneered the talk radio schtick of pretending to be 'just folks' while being anything but, of spinning people's day-to-day grievances into a political agenda that's a step beyond any of them.
Beck employs similar foot-in-the door tactics, where the foot is emotion and the door is the door to an agenda. Do you love your country? Obviously. Are you unhappy about the recession? Duh. Are you generally uneasy about the direction the country's going? Well, when you put it that way… It's because Obama is a socialist/Nazi (take your pick), and the solution is to get rid of the czars! Thanks to Beck, the turn from bad vibes to a desire to get rid of the corps of unelected officials that have done the grunt work for countless presidential administrations has become an intuitive one to many people in this country today, which is a scary, remarkable achievement — and it's textbook Rush.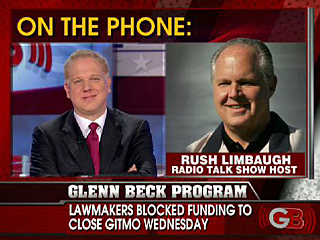 Just as importantly, Limbaugh taught Beck that political influence and an emotionally rousing show are good business. Yes, Color of Change has scared a lot of sponsors away from Beck's time-slot following his "Obama is racist" rant — though their effect on Fox's bottom line is oft-exaggerated. But Beck is a multi-platform guy. In his Time piece, he admires Limbaugh for not doing "everything at once," but for sticking to radio — but that's not really the case.
Limbaugh's 1994 See, I Told You So was one of the first powerhouse conservative hardcover books of the sort that now flood Barnes & Noble: According to Booklist, at the time it had the biggest early sales of any hardcover book in publishing history. Beck, of course, has megahits Common Sense and An Inconvenient Book, plus the likes of The Christmas Sweater, a fictional holiday tale (huh?) that is currently the #1 Christmas book on Amazon. But that's not all: Rush has a newsletter (for $34.95 a year), Beck has Fusion Magazine (also for $34.95 a year!). They both sell branded, angrily jokey t-shirts, coffee mugs, and bumper stickers. It's probably a coincidence, but the store pages on both of their websites look eerily similar — although Beck's is better-designed. (Here's Limbaugh's.)
Some bloggers have surmised that Rush must be jealous of Beck's newfound celebrity and influence on the right. That may be true, but there's no real-world evidence to back it up beyond vague theories about Limbaugh's psychology. The two have come across as quite chummy when Limbaugh appeared on Beck's show in May and again in August, swapping ideas, joking around, and even flirting with each other, as Beck would have it. "I think he's hitting on me! I think he's saying, 'I'm a sexy, sexy man!'"

But if Rush was the original Terminator, Beck is T-1000: sleeker and more ruthless (and he can probably melt into a pool of liquid silver, if you press him). Beck also has his radio show, but it's hard to overstate how important his cable platform is — and the endless stream of embeddable videos that flow from it to the Internet. Rush has always been a gadfly, and arguably blew up the Lewinsky scandal even more than Matt Drudge, but he doesn't quite have the scalp of two appointed officials.
But Beck runs the risk of burnout: he's new, hot, hyped, and knows how to insert himself into the national news cycle every three days or so, but at three years on TV and just 8 months at Fox, he hasn't yet withstood the test of time; even his rank and file could get sick of his rodeo clownery, while Rush's dittoheads have stuck by his lower-energy formula. Like the original Terminator, Rush could just be the one to outlast him.
Have a tip we should know? [email protected]