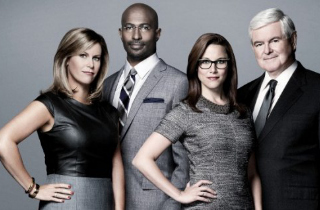 It looks like CNN's Crossfire reboot is receiving the kind of slow death that would be considered cruel and unusual by humanities groups if the show were an actual person (or if Newt Gingrich weren't one of the casualties).
The show, which was relaunched in Sept. 2013 but has been off-air since July, is reportedly dumping staff. A CNN publicist has said it's on "extended hiatus." The New York Times recently reported that the show has been "withdrawn."
But it hasn't been formally canceled, which means there's still time to save it. Here's how.
Promos for Crossfire ahead of its reboot featured the show's four co-hosts — Gingrich, Stephanie Cutter, Van Jones and S.E. Cupp — sitting around a table talking with each other about politics. It looked similar to Fox News's The Five but with a more serious group of thinkers, or like ABC's The View but without the hot flashes.
It was a conversational format, which works like magic when the talkers have a good rapport. It's what makes The Five, The View and Outnumbered, at the least, fun to watch. (To be fair, it fails miserably when the so-called "chemistry" isn't there. Recall that uncomfortable CNN experiment (Get to) The Point with Donny Deutsch. Gag.)
On Crossfire's first episode, however, viewers weren't given the conversation that was advertised. Instead they saw an awkward attempt by Cutter and Gingrich, two political figures with no TV presenting experience, to co-host a current events program as if they were amicable news anchors. They were joined by Sens. Rand Paul and Bob Menendez, not Jones and Cupp.
Paul and Menendez are politicians who talk like politicians. Zzz.
Cutter and Gingrich were swapped out the next day for Cupp and Jones and most proceeding editions of the show mixed and matched the two co-hosts with two other guests
The goal was obvious. CNN wanted the show to be separate from similar opinion-driven shows that mostly focus on conflict. They threw in a regular "ceasefire" segment that forced the politically opposite co-hosts to agree on something. (Did Mom also include a nice note with their packed lunches each day?)
It didn't work. Throughout their careers, Jones, Cupp, Cutter and Gingrich have all proved to be provocative, insightful commentators. They've all made news at one time or another as guests on other shows. But, aside from Cupp who had prior history working in TV, none of them had experience running their own programs.
Crossfire, should it return, will have to drop its entire current format.
No more guests.
Crossfire is at its best when the co-hosts are engaging each other. It was during those times that Gingrich compared Hillary Clinton to a clumsy Kim Kardashian and that Cutter and Cupp nearly started pulling on each other's hair while debating which political party was more obstructive to progress.
Instead, all four co-hosts should be on set each day to discuss the news in whatever terms they want. CNN should also deem Cupp, given her TV experience, as the show's moderator, if only to have someone who can toss to commercial and move the show's topics along without looking like a public access channel production.
There's still time to salvage Crossfire. CNN only has to make it worth saving.
And if Fareed Zakaria is worth the trouble…
[Photo via CNN]
— —
>> Follow Eddie Scarry (@eScarry) on Twitter
Have a tip we should know? tips@mediaite.com