Howard Dean Dismisses 'GOP Sabotage': 'Republicans are Irrelevant' to Whether Obamacare Works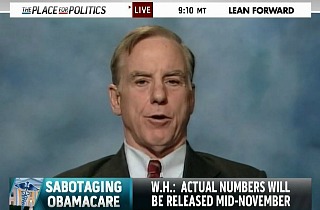 "The president's credibility is on the line," said former Vermont Gov. Howard Dean in an interview with MSNBC anchor Thomas Roberts. Dean dismissed a POLITICO editorial which laid the blame for the Affordable Care Act's failures at the foot of the Republican Party on Friday, saying that the program's fate will depend on whether or not it works and not the GOP.

Asked about the POLITICO story which accused Republicans of effectively blocking the success of the ACA, Dean said that it was best "to just ignore them entirely."
"This thing – program – is going to rise and fall not on what the Republican say or do, because their, actually, their ratings are far lower than the president's," he continued. "It's going to rise and fall on whether we can get this thing running properly or not, and we have to focus on that and not pay so much attention to these whack jobs in Congress that are trying to undermine the thing and have forgotten that they're actually supposed to serve the American people."
RELATED: Reince Priebus Laughs at MSNBC's Chris Jansing When Asked if Obamacare's Failures Are GOP's Fault
"I think the Republicans have essentially eliminated their brand as a serious contention in America politics," Dean added. "The problem is we've got to deliver this. It has entirely to do with Democrats. The Republicans are irrelevant to this debate."
He concluded by noting that President Barack Obama has to deliver because his credibility is on the line.
Watch the clip below via MSNBC:
[Photo via screen grab ]
— —
> >Follow Noah Rothman (@NoahCRothman) on Twitter
Have a tip we should know? [email protected]