Howard Dean Goes Off On 'Thin-Skinned And Sanctimonious' Press On MSNBC, Blasts National Review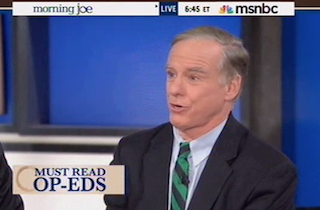 Howard Dean joined the Morning Joe roundtable on Thursday, weighing in on the discussion about Attorney General Eric Holder's upcoming meetings with members of the press — and the outlets that chose to bow out, citing concerns about the off-the-record rules. While Dean underlined the importance of the First Amendment, he was more than a little critical of the "thin-skinned and sanctimonious" press.
The segment led with a National Review piece about Holder, allowing Dean to express his distaste for the publication, which goes back to — yes — an editorial published about Dean himself. "Right-wing conservative nut case," he charged, going on to explain comments about Benghazi that he said National Review misconstrued. "This is crap. Who gives a damn? This is why I don't read editorial pages because I don't give a damn what these people think."
But back to Holder. As Steve Schmidt countered that the criticism against the attorney general is legitimate, Dean did agree that there's a problem and that he's on the press' side — but also that he likes to "stick it" to them "because they're so thin-skinned and sanctimonious."
"This is a legitimate area of debate and I probably going to end up coming down on the side of the press — not because they are whiny and complaining — but because the First Amendment is really important," Dean argued. "On the other hand, if I'm Obama or Eric Holder, I got a problem because my intelligence is being compromised. This is a tough issue."
To that point, Joe Scarborough brought up the "great irony" of the situation. This is the same press that landed Obama in the White House. "Suddenly, these Democrats that are used to having rose petals thrown at their feet for an entire campaign are stunned that the press actually wakes up and says, 'Wait a second, we probably need to do our job now that they are running the country,'" he added. "Then they get thin-skinned and they are shocked!"
"He is the beneficiary of the most positive press coverage in the history of presidential campaign," Schmidt concluded.
Take a look, via MSNBC:

Have a tip we should know? tips@mediaite.com