Howard Dean Scolds Scarborough: Trust Obama on Syria Because He 'Knows All the Facts'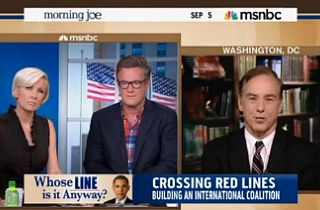 Appearing Thursday on Morning Joe, former DNC chairman Howard Dean scolded host Joe Scarborough for criticizing President Obama's "baffling" series of statements on Syria. Instead, the former Vermont governor said, people should give the president more leeway since he is privy to more information not available to the general public.
After Scarborough and several panelists lambasted the president's "flippant" behavior after setting a "red line" against Syria's use of chemical weapons, Dean suggested that they were all engaged in a "blame game" he calls "Washington hooey."
"Give me a break, Howard," Scarborough shot back. "You're on the wrong show."
After the two battled for a few minutes over whether the president's confusing lead-up to Syrian strikes has been the result of backing himself into a corner with his own words, Dean scolded the MSNBC host for making such judgments without knowing all the facts [emphasis added]:
Let's get to the nitty-gritty of what's going on here. What are we to do? So the first assumption you have to make, question you have to ask is, do we belong in Syria? Is there a reason for us to go in? Some people say it's none of our business. I say when kids are getting killed, it's always our business and the next question is what can we do about it? Now the fact of the matter is I was very happy to criticize the president when he did health care reform. I know a lot about it. I've had a lot more experience about it than probably most the people that wrote the bill. In this situation, the President of the United States is the only person who knows all the facts except for a few of his advisors.
"But just five minutes ago," Scarborough responded, "you said the president knows more than we do; we really need to trust him to make this tough decision." He then laid down an insult from yesteryear, comparing Dean to George W. Bush cabinet member Paul Wolfowitz who, in 2002, vociferously defended the president's desire to go to war with Iraq.
"Don't ever trust that the president has more information than we do," Scarborough concluded, "and that we can't sit back and be baffled by this man trying to pretend that he is a passive actor on the world stage when he is the one that has framed the outlines of this debate and has put us in the position we're in."
Watch below, via MSNBC:
[h/t
NewsBusters
]
— —
>> Follow Andrew Kirell (@AndrewKirell) on Twitter
Have a tip we should know? [email protected]