Howard Fineman Admits To S.E. Cupp: Obama's 'Passive Aggressive' Negotiating Style On Budget Not Leadership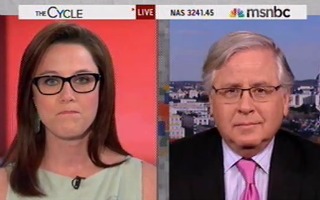 On Tuesday, MSNBC host S.E. Cupp grilled Huffington Post Editorial Director Howard Fineman about the latest budget battles going on in Washington. President Barack Obama is spending this week negotiating directly with members of Congress from both parties to strike a budget and debt deal. However, when pressed about Obama's negotiating style, Fineman admitted that "he's not leading from the front" on budget issues.

RELATED: 'That Is Completely False': Kirsten Powers And Conservative Guest Battle On Fox Over Obama's Budget Plans
Cupp said to Fineman that, despite all the criticism of the budget produced by Rep. Paul Ryan (R-WI), at least they have offered a budget. "For the first time in 92 years, Congress and not the president is kick-starting this budget process," Cupp said. "President Obama hasn't even set a date for the release of his budget."
"Is that sort of a leading-from-behind strategy?" Cupp asked. "Is that leadership on the budget?"
"No, it's not," Fineman replied. "He's not leading from the front on this."
Fineman said that Obama has made it clear that he expects a budget bargain to contain higher tax revenues and that is not what he has received from Congressional Republicans. Fineman noted, however, that president has avoided specificity about how much tax revenue he would like to see in a bipartisan budget proposal.
"This is the way he's played the game all along," Fineman continued. "This is what he did on health care. This how we ended up with the way Obamacare is. This is the way he operates and, even though he's going up to the Hill, it's kind of a funny kind of passive aggressive thing."
Fineman concluded that he was not convinced, as so many in the political press seem to be, that this latest push by Obama and Republicans to reach a bargain will result in anything substantive. "I'll believe it when I see it," Fineman concluded.
Watch the clip below via MSNBC:
> >Follow Noah Rothman (@NoahCRothman) on Twitter
Have a tip we should know? tips@mediaite.com