Howard Fineman: 'I Have Never Heard Newt Gingrich Call President Obama President Obama'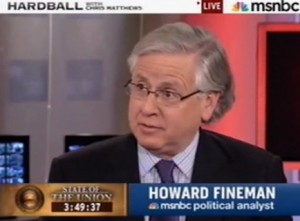 During a SOTU preview segment on Tuesday evening's Hardball, MSNBC contributor Howard Fineman made an observation about a rankling trend among certain opponents of President Obama, the tendency not to address him by his hard-won title. Framing it in the context of those who question the President's legitimacy, Fineman noted "I have never heard Newt Gingrich call President Obama 'President Obama.'"
I thought I'd put Fineman's claim to the test, using last night's debate. The results were surprising.
Huffpo's Howard Fineman and host Chris Matthews were discussing tonight's State of the Union Address, and Matthews began by criticizing former Massachusetts Gov. Mitt Romney for "blasting what he hasn't heard yet" in a "pre-buttal" in Florida earlier today. Maybe Romney has watched Minority Report too many times, because he accused the President of "us(ing) the State of the Union to divide our nation."
Fineman called out the kettle in Romney's premonition, pointing out that "You and I just spent the last month immersed in and covering some of the most divisive rhetoric I have heard on the campaign trail for years."
"They don't accept the President's legitimacy in many ways," he continued. "I have never heard Newt Gingrich call President Obama 'President Obama.' It's usually just 'Obama.'
"And I know that sounds like a trivial thing," Fineman added, "but it's not. It's very important."
The trend that Fineman identifies has even been cause for outrage among the President's supporters coming from liberal critics of the President, and while there most certainly plenty of people who dismissively referred to "Bush" during the last administration, that level of informality becomes outright disrespect when practiced by those seeking the office.
While it's true that Gingrich uses the President's full title when he's appending it with "food stamps," I took a look at last night's debate transcript, and found something surprising. The unsurprising part is that Speaker Gingrich mentioned the President by name seven times, and didn't once address him as "President Obama," calling him "Barack Obama" four times, and spitting out "Obama" three times.
What is surprising is that only one of the four candidates, who collectively mentioned the President 14 times (not including "Obamacare"), referred to him as "President Obama" at all. If you guessed it was "Don't I look presidential?" Mitt Romney, you would be wrong.
It was former Sen. Rick Santorum, who used the title 3 out of the 5 times he mentioned him. Of the other two instances, one was a reference to "Barack Obama" while he was in the Senate, and the other was in a sentence that immediately followed a reference to President Obama: "Iran is not just another country, or a little, small country, as President Obama said classically during the campaign. Obama's Iran policy has been a colossal failure."
There's probably not a lot of crossover between Sen. Santorum's supporters and the President's, but at least Santorum has the decency to address our president (and his) with the respect he has earned.
Here's the clip, from MSNBC's Hardball:
Have a tip we should know? tips@mediaite.com