Howard Kurtz And CNN Panel Shred David Gregory Over Greenwald Interview: 'Outright Unfairness'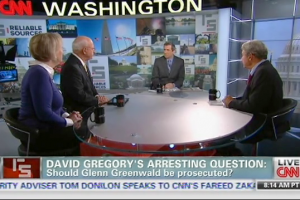 On last week's Meet the Press, David Gregory asked Guardian journalist Glenn Greenwald if he should be charged for "aiding and abetting" Edward Snowden. Gregory defended the question, but received widespread condemnation for even asking it. The piling on continued on CNN's Reliable Sources today with Howard Kurtz and his panelists agreeing that leveling such an accusation borders on "outright unfairness" and looks like a journalist is borrowing talking points from the government.
RELATED: 'Is David Gregory A Journalist?': Frank Rich Takes Down NBC Anchor For 'Preposterous' Charge Against Greenwald
Kurtz wondered if Gregory may have helped "legitimize the notion" that reporters could possibly be prosecuted for doing their jobs. Terence Smith noticed the exact language Gregory used was "to the extent you are aiding and abetting" Snowden, which would only be a valid and not inappropriate question if it was about helping Snowden escape.
Kurtz acknowledged that Greenwald should be asked tough questions, but found all the hit pieces on him in the press to be completely over-the-top. He said, "Without evidence, it seems to me to border on outright unfairness."
American University professor Jane Hall said Gregory "seems to be endorsing" lawmakers' views with the question, while Steve Roberts noted that sometimes journalists have "obligations to be citizens" in helping police with crimes.
Kurtz suspected that maybe the establishment media resents Greenwald because they see him as more of an activist, but "he got the scoop that other didn't" and "the facts of the story have held up." Hall said the media needs to get back to those facts and not gawking over Greenwald and Snowden's girlfriend so much.
Watch the video below, courtesy of CNN:
—–
Follow Josh Feldman on Twitter: @feldmaniac
Have a tip we should know? tips@mediaite.com
Josh Feldman - Senior Editor