Howard Kurtz On Jon Stewart: Is There Another Program That Has Had More Impact On Politics?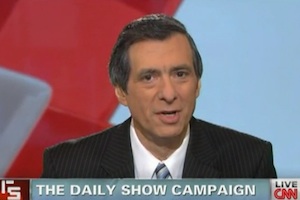 On CNN's Reliable Sources, Howard Kurtz lauded The Daily Show as being perhaps the most important program for political satire on television. "Is there another program out there that's not quite news but not quite just a comedy show –that has had more impact on politics through laughter and ridicule? Did it long ago eclipse Saturday Night Live?" Kurtz pondered. "The 2012 campaign is prime time for Jon Stewart as he pokes not just the pols but the pundits for being so absurdly fickle."
Kurtz put together a panel featuring Mediaite Editor-at-Large Rachel Sklar and Syracuse University's Robert Thompson to discuss the power of Stewart's influence on the political media narrative.
RELATED: Jon Stewart: Demagogue Or The Most Rational Man On Television?
"He is doing real political satire," Thompson observed. "In the mass media on television, we have not had a lot of that. Before SNL we had Johnny Carson. He told jokes about politics but certainly wasn't a political satirist. Even Saturday Night Live, Chevy Chase falling down like Gerald Ford. That was hardly real political satire. For the past several years, Jon Stewart has been doing real essays. Most of his show was about politics, he's got evidence and clips, and he's got attitude and maybe that's what journalists are afraid to do is to cop the attitude that he's got. I think reporters should be doing in the journalistic idiom a lot more of the kind of thing that Jon Stewart does four nights a week in the comic idiom, which is really bringing these sort of essays together and giving us the evidence of what he's talking about."
Sklar noted that Stewart wasn't the only political satire powerhouse on television. "If you stay up the extra half-hour and watch Stephen Colbert, he lands some pretty amazing, deft punches."
Watch Kurtz's panel discuss the influence of political comedy below via CNN:

Have a tip we should know? tips@mediaite.com