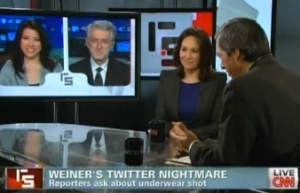 On CNN's Reliable Sources, the discussion over Democratic Congressman Anthony Weiner's Twitter photo was front and center. The most startling part of the conversation came however when host Howard Kurtz asked Gawker reporter Maureen O'Connor whether her site has "a big advantage covering this story in a way the mainstream media can't, starting with the language that you can use," which strangely predicted what was about to come next.
O'Connor responded:
"Is this relevant to Anthony Weiner's career as a politician? Maybe. . . . This is what we do. We cover human interest stories. We cover the strange case of a person, a powerful person, ending up falling to the exact same ridiculously stupid follies that everyone does. Taking a picture of his dick and getting caught doing it."
Kurtz heard the use of the slang term and quickly responded "Gawker does have a different way of talking about these things, not a word that I would use on the air." In this day and age whether the word itself is that outrageous is up to viewers to decide, however, a serious news program might be one of the few places remaining where the word is still jarring to hear, and thus it might seem best to reserve such language for the privacy of one's own home.
(UPDATE): We reached out to Maureen O'Connor for comment and she provided the following:
An honest mistake — given how many good euphemisms there are for the word "penis," I am greatly disappointed that I chose one unfit for television. If I could do it again, I would say "wee wee," "love muscle," "tumescent tubesteak," or "baby arm."
Watch the clip from CNN below:

Have a tip we should know? tips@mediaite.com