Howard Kurtz on Jon Stewart's 'Neat Little Game': 'Wants to Be Political Critic' Until He Has an Impact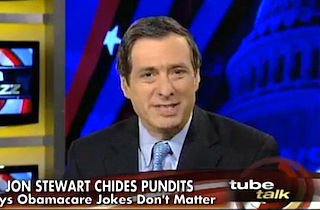 On Fox News' Media Buzz Sunday morning, host Howard Kurtz continued the back and forth between media critics who claim that the Daily Show host Jon Stewart's mockery of Obamacare was a watershed moment for the law, and Stewart's response that he's just a comedian whose equal opportunity jokes shouldn't be taken as bellwethers of political opinion.
"This is a neat little game that Jon Stewart is playing," Kurtz said. "He wants to be a cutting-edge media and political critic—remember the Rally for Sanity in Washington?—and he's good at it! But if you say he's having an impact, he says, 'Wuh? I don't have any impact. I'm just a guy telling smutty jokes on basic cable.'"
RELATED: Jon Stewart Blasts the Horrible Obamacare Rollout: 'So Sick of This Sh*t'
Kurtz was one of the critics Stewart lampooned on his show this week. Last Sunday, Kurtz had led an entire segment on the Daily Show's coverage of Obamacare, with regular guest Lauren Ashburn arguing that Stewart was speaking to the very demographic whose participation was necessary for the law's functionality.
"Jon Stewart making fun of Obamacare was a symbolic moment, the same with SNL mocking Kathleen Sebelius, but these things matter," Kurtz said. "Do we in the media overuse these clips to oversimplify issues? We're guilty, Jon, we're guilty! But keep 'em coming."
Watch the full segment below, via Fox News:
Watch Stewart's bit, via Comedy Central:
[Image via screengrab]
——
>> Follow Evan McMurry (@evanmcmurry) on Twitter
Have a tip we should know? [email protected]