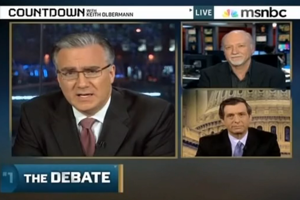 Tonight was only Keith Olbermann's second show back from "exile," and, while he seemed to have taken his temporary suspension with an air of whimsy last night, today he tackled the subject of journalists and political donations seriously, inviting two fellow journalists– the Daily Beast's Howard Kurtz and The Nation's Greg Mitchell— to give their takes, since "I think you may have heard of my point of view here."
Despite bringing in new voices to discuss the matter on a grander scale, the focus was very much on Olbermann's behavior throughout the elections. Kurtz provided the strongest dissent, beginning his assessment by say that journalists should "absolutely not" donate to campaigns. "I believe you made a serious mistake, Keith," he advised, "with these Democratic donations." He suggested that there had to be "some kind of line" between journalists and opinion commenters on one hand, and partisan players on the other. Also, as a journalist, Olbermann was not entitled to such liberties.
Mitchell found the origin of the problem in the beginnings of journalists appearing on cable news programs and being encouraged to give opinions, and found the perception to be the issue, not the reality– "when the owners of these companies are donating huge sums, it's the perception that they're controlling things."
Kurtz, who finally agreed with Olbermann on the point of transparency in donating, still did not give up the point that Olbermann had done serious damage to his objectivity. "We give up certain rights in order to get the kind of platform that you enjoy," Kurtz noted, though he did not argue that keeping the donations quiet is preferable.
The discussions from tonight's Countdown via MSNBC below:


(This post has been updated. -SK)
Have a tip we should know? [email protected]