Howard Kurtz: Oprah And Colbert Can Host GMA, But Not Ann Romney: 'Should Be Reserved For Journalists'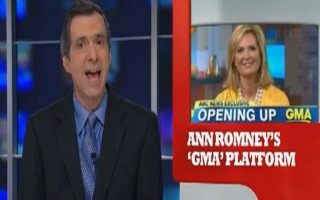 CNN media critic Howard Kurtz weighed in on the news that Ann Romney, wife of presidential candidate Mitt Romney, will co-host at least an hour of Good Morning America on ABC next week. Kurtz tore into ABC's decision to give a co-hosting spot to either Ann Romney or first lady Michelle Obama while they are actively campaigning for their husbands. He said that this seat "should be reserved for journalists." Kurtz is, however, fine with GMA offering the same co-hosting opportunity to entertainers like Comedy Central host Stephen Colbert or media mogul and talk show host Oprah Winfrey.

"This is, not to mince words, a stunt," said Kurtz. He says that NBC's Today allowed Sarah Palin co-host the program, but that was less of a "stunt" because that occurred nearly four years after she was no longer running for political office.
He says that both Michelle Obama and Ann Romney should be subject to interviews, but that GMA's co-hosting seat "should be reserved for journalists."
"Okay, have Oprah or Stephen Colbert, as GMA is also doing, but Ann or Michelle shouldn't be sitting next to George Stephanopoulos," said Kurtz, without noting that Stephanopoulos was a political operative in the Clinton White House before he was a journalist.
Kurtz concludes by saying that GMA has recently and consistently overtaken Today in the ratings and they do not need to engage in stunts like this to keep the top spot. He does not indicate whether or not "stunts" like this helped garner GMA their top spot in the first place.
Far be it for me to suggest what Kurtz, an accomplished media critic, should or should not have an opinions about. However, you think he would have been able to choose a subject which did not require him to contradict his own observation in the two breaths.
Watch the clip below via CNN:
> >Follow Noah Rothman (@Noah_C_Rothman) on Twitter
Have a tip we should know? tips@mediaite.com