CNN's Howard Kurtz Revisits Showdown With Fox's O'Reilly Over Drones: 'He Wanted To Talk About Himself'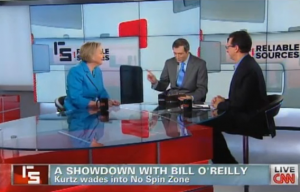 Following Bill O'Reilly's segment calling out NBC about their drone coverage, despite their having broken a recent story about the program, CNN's Howard Kurtz took on the Fox News host on his own program. On Sunday, Kurtz followed up on Reliable Sources — questioning whether their debate was even helpful, and whether President Obama is getting a pass.
"Was this an enlightening debate?" Kurtz asked of his visit to the "no spin zone." Jane Hall felt Kurtz "did well" and that O'Reilly "shifted the terms of the debate, which he likes to do."
"He wanted to talk about himself and how he felt I had wronged him," Kurtz responded. "I was trying to get to higher ground." He went on to ask whether he was convincing. "You did just the right thing," Frank Sesno chimed in, by acknowledging O'Reilly's argument and then turning to the larger issue of drones.
There has been some hypocrisy with the media and accountability when it comes to Obama's drone program, Kurtz agreed. The Washington Post's Paul Farhi said O'Reilly's point is "well taken" because "we haven't had quite the same, robust debate about whether this is an effective policy, a moral policy" compared to the water boarding/enhanced interrogation debate.
"It will take some time to get us to the same level of outrage," Farhi asserted, because the program is new. Along similar lines, Sesno commended O'Reilly, proposing a question: Do the media lead or follow? Aside from some exceptions, liberal commentators are giving Obama "a pass," Kurtz concluded. Sesno agreed.
Hall postured that some of the reaction stems from the perception that Democratic presidents are weaker when it comes to national security. "It's not about condemning the use of drones," Sesno sought to clarify. "How any weapon gets used and who is targeted" merits discussion.
The press in general are "probably a little more inclined" to give Obama the benefit of the doubt on national security, Kurtz said. Sesno countered, asking, "You think that George W. Bush didn't have virtual carte blanche from the political establishment and the media?" He did in the beginning and for "a very long time."
Answering the question he posed earlier, Farhi chimed in that the news media tends to follow, not lead. They wait for the debate to break out before getting involved.
Watch below, via CNN:

Have a tip we should know? tips@mediaite.com