Huckabee Calls Trump Captain Quint and Clinton Jaws, Then Gets Reminded How the Movie Ends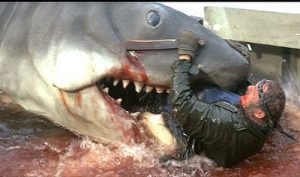 Mike Huckabee's penchant for dad jokes and strange analogies led to him being corrected on one of his quips last night by Jaws star Richard Dreyfuss.
Huckabee appeared with Megyn Kelly last night and ended his appearance with this analogy:
"[Trump's] like Captain Quint in the original movie Jaws. He's vulgar, he's salty, he might even get drunk… he's the guy who's gonna save your butt and save your family. And so at the end of the day, when he kills the shark, you're happy about it. Now, Hillary is the shark. She's gonna eat your boat, she's gonna have open borders, immigration out the kazoo [ed. note: is that canon with the Jaws franchise?], and so the choice is do you vote for Captain Quint, who's gonna save your family, or do you vote for the shark?"
Now, if you've actually seen Jaws, you can guess what Megyn Kelly said next. Let's just say that Quint's fate isn't quite what Huckabee should be hoping for this go-around, and Huckabee's attempts to justify his analogy are just a teensy bit awkward.
(Also, you absolutely must watch the video to the very end to see Kelly sing something very familiar…)
Oh, and then this segment was brought to the attention of Richard Dreyfuss himself:
Quint did not kill Jaws. https://t.co/jSSRmGE9hD

— Richard Dreyfuss (@RichardDreyfuss) October 11, 2016
I love @megynkelly.

— Richard Dreyfuss (@RichardDreyfuss) October 11, 2016
You can watch the segment above, via Fox News.
[image via screengrab]
— —
Follow Josh Feldman on Twitter: @feldmaniac
Have a tip we should know? tips@mediaite.com
Josh Feldman - Senior Editor