Huckabee: Cruz 'Absolutely Crashed' His 'Plane' By Dishonoring Pledge to Support Trump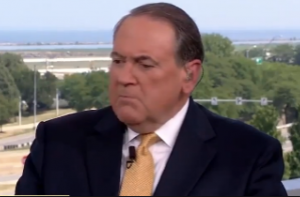 Mike Huckabee says that Ted Cruz earned his 'Lyin Ted' moniker last night with his refusal to explicitly say that he supports Donald Trump as their party's presidential candidate.
The former governor of Arkansas appeared on Fox's Outnumbered Thursday, where the panel took note of Cruz's Wednesday night speech, and how he's been lambasted by fellow conservatives ever since. Cruz's endorsement was highly anticipated due to his heated rivalry with Trump when he was the last holdout during the primaries, and Huckabee joined the chorus of those saying Cruz is "dishonorable" and shouldn't have been allowed on stage if he intended to break the party's loyalty pledge.
"He was circling the runway, we all thought he would land the plane, and he absolutely crashed it," Huckabee said. "He dishonored himself and the convention. I am absolutely disgusted with what he did last night."
Monica Crowley chimed in as well, saying that Cruz was ungracious with his opportunity to speak, and she brought up the indications that the Trump campaign knew what he would say, and was actually hoping he would "hang himself" politically.
Huckabee said it was a "mistake" of the Trump campaign if they knowingly allowed Cruz to say what he said, and he held no sympathy for Cruz's press event when he explained why he has a hard time getting in line.
"This is a big boy game. You get into the process, you will get hurt, you will see your own blood. I tell people all the time if you can't stand the sight of your own blood don't run for anything."
[Image via screengrab]
— —
>> Follow Ken Meyer (@KenMeyer91) on Twitter
Have a tip we should know? tips@mediaite.com