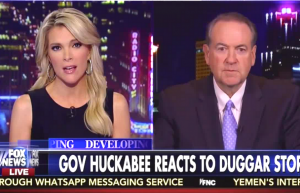 The Josh Duggar molestation scandal has ended up worming its way into the 2016 race, with much attention being paid to the relationship between the Duggar family and presidential candidate Mike Huckabee. Early last month, before the scandal came out, the Duggars endorsed Huckabee, as they did in 2012.
Huckabee voiced his support for the family and lashed out at the media circus surrounding the Duggars. Their endorsement mysteriously disappeared from Huckabee's website, but he insisted that they'd be back up in due time.
And that all brings us to tonight, when Huckabee discussed the Duggars with Megyn Kelly, fresh off her interviews with the Duggar parents and two of Josh Duggar's sisters and victims.
Huckabee continued to defend the family and said that they did all the right things in responding to what their son confessed. He railed against the release of the police report in the first place and said he was "just stunned and shocked" by how the victims were "exploited" by the media.
Huckabee even went so far as to, when Kelly pointed out Josh Duggar confessed, say he didn't do it in a court of law, and "the law does not hold him accountable even if he confesses."
He invoked the same Lena Dunham comparison that Sarah Palin did and said he would never use this kind of thing to "destroy" anyone, even if they weren't fellow Christians.
Watch the video below, via Fox News:
[image via screengrab]
— —
Follow Josh Feldman on Twitter: @feldmaniac
Have a tip we should know? tips@mediaite.com
Josh Feldman - Senior Editor