Huckabee: 'I Have Gay Friends,' Just Like I Have Friends Who Drink, Curse, and See Ballet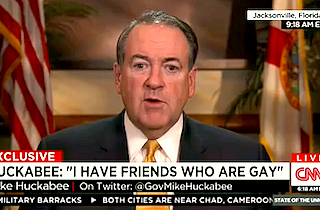 Former Arkansas Governor and current Marge Simpson impersonator Mike Huckabee told CNN's Dana Bash Sunday morning that he had plenty of gay friends, as he had friends who drank, cursed, and went to ballet, but that just as he had no problem including them in his circle, neither did his personal relationships with them change his views on gay marriage.
"People can be my friends who have a lifestyle that are not necessarily my lifestyle," Huckabee said. "I don't shut people out of my life because they have a different point of view."
In fact, Huckabee continued, it was same-sex marriage advocates who were being intolerant by forcing wedding business to provide services for same-sex marriage couples. Huckabee accused them of pushing "economic disenfranchisement" onto business that disagree with them.
"There's room in America for people who have different points of view without screaming and shouting and wanting to shut their businesses down," Huckabee said. "It would be like asking a Jewish deli to serve bacon-wrapped shrimp, or" — and here Huckabee revealed the extent of his knowledge about Islam — "asking a Muslim to do serve up something that is offensive to him, or have dogs in his backyard."
Huckabee insisted that his ability to maintain relationships with those he disagrees with proved he could govern them as well, which should come as great comfort to anybody prohibited by a state constitution from getting married.
Watch le clip below, via CNN:
[Image via screengrab]
——
>> Follow Evan McMurry (@evanmcmurry) on Twitter
Have a tip we should know? tips@mediaite.com