Huckabee: Less Race Conversations, 'More Conversions' — Because God Solves Racism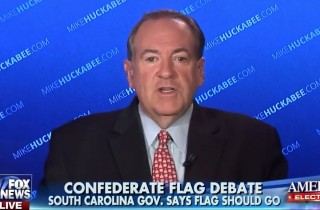 Following the deadly Charleston church shooting that left nine black congregants dead last week, America has been thrust into a larger conversation about racism and how it lingers throughout elements of Southern culture. Former Gov. Mike Huckabee (R-AR) thinks any such conversations are unproductive, and would rather see people converting to Christianity.
The remark came during a Tuesday appearance on Fox & Friends, in which guest-host Ed Henry grilled the former governor on his "punting" of the Confederate flag issue as a "state issue," despite claiming Americans are looking for a forceful leader.
"I didn't punt at all," Huckabee declared. "As a frequent visitor to South Carolina, I look at this objectively: You've got a female governor who is of Indian descent, you have the only elected African-American U.S. senator in the South from a state of 4.8 million people, elected largely by people who are mostly white. That's not racism."
And now that Gov. Nikki Haley (R-SC) called upon her state's legislators to remove the Confederate flag from Statehouse grounds, Huckabee applauds her decision, but still thinks the entire race-based response to the shootings is misguided.
"I keep hearing people saying we need more conversations about race," he said. "Actually we don't need more conversations. What we need is conversions because the reconciliations that changes people is not a racial reconciliation, it's a spiritual reconciliation when people are reconciled to God."
He concluded: "When I love God and I know that God created other people regardless of their color as much as He made me, I don't have a problem with racism. It's solved!"
Watch below, via Fox News:
[h/t Raw Story]
[Image via Fox/screengrab]
— —
Have a tip we should know? tips@mediaite.com