Huckabee Mum On VP Speculation: 'Don't Buy The Corsage For The Prom Until You Get The Date'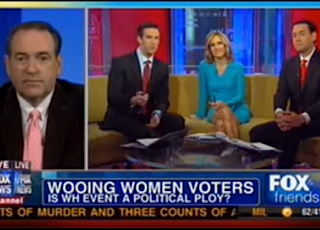 With a moderate Republican as frontrunner and the question of how to woo independents while keeping the far right charged up loom for Mitt Romney, the running mate he chooses becomes all the more important. Given his history with Romney– defeating him in Iowa, for one– Mike Huckabee is facing the running mate question now, as well, asked on Fox & Friends today whether he would contemplate a run. He barely answered the question, instead opting to keep quiet on what he would say before any of the candidates ask him.

RELATED: Huckabee: Brokered GOP Convention A 'Trainwreck,' But Pressure On Gingrich To Drop Out Is 'Unfair'
Huckabee spent his typical two segments with the Fox & Friends crew to discuss President Obama's upswing with women voters and recent comments by Rep. Nancy Pelosi, among other things. After arguing the case for Republicans attempting to court the women vote, Dave Briggs noted that many were speculating Republicans had a bigger job for Huckabee than TV host, citing Mike Allen among those putting Huckabee on a short list. Briggs asked simply whether Huckabee would contemplate it.
"I like to put it like this: don't buy the corsage for the prom until you get the date. It's just not good form!" he replied, giving no other hints as to what he would do. As a social values conservative who hasn't done as much to injury Romney's reputation as Rick Santorum, depending on his favorables, Huckabee could wind up on the short list rather swiftly. Then again, given what the short list looked like four years ago, it's hard to say whether the speculation is founded.
Huckabee's comments via Fox News below:

Have a tip we should know? tips@mediaite.com