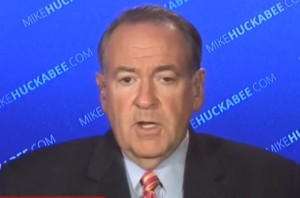 Republican presidential candidate Mike Huckabee called President Barack Obama "disingenuous" for commenting on the Michael Brown and Treyvon Martin cases before there were criminal charges, but refusing to do so on the Bill Cosby rape accusations.
Huckabee was invited on CNN to respond to the president's press conference on the Iran deal. But towards the end, Wolf Blitzer asked the former Arkansas governor about Obama's comments on Bill Cosby. "If you were president, would you revoke Bill Cosby's presidential medal?" he asked.
The former governor agreed with Obama that the accusations against Cosby were horrific, but said he wouldn't revoke the medal since Cosby had never been tried in a court of law. But then he attacked President Obama for picking and choosing which high-profile accusations to comment on.
"I did find it interesting that the president said 'I don't comment on things like this,' and then he went ahead to comment on it," he said. "And I'm thinking the whole time, Mr President, you commented on Trayvon Martin, you commented on Ferguson, Missouri, you commented on Baltimore, all before there were civil and/or criminal actions that were still impending."
"It just was so disingenuous for him to pretend he doesn't comment on these things when in fact he's commented on nearly every one of them that has surfaced out there in the public square," Huckabee concluded.
Watch below, via CNN:
[Image via screengrab]
——
>>Follow Alex Griswold (@HashtagGriswold) on Twitter
Have a tip we should know? tips@mediaite.com