Huffington Post Removes Story After Incorrectly Reporting Fox News Edited Gaffe Out Of Romney's VP Intro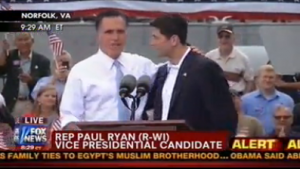 "Oopsydoodlez," as we say in the industry. The Huffington Post recently published a post claiming that Fox News had edited out the portion of Mitt Romney's speech Saturday where he accidentally introduced his running mate Paul Ryan as the "next president of the United States."
The only problem is — as anyone who noticed that our post on Romney's mistake used Fox News' footage of the speech could tell you — that's simply not true. The network played Romney's speech in its entirety, slip-up and all.
RELATED: Mitt Romney Introduces Paul Ryan As 'Next President Of The United States'
HuffPost has since taken down their story, issuing an apology in its place:
A HuffPost story about Mitt Romney making a mistake during a speech incorrectly indicated that Fox News had edited the video clip to correct Romney calling Paul Ryan the "next President of the United States." Fox News actually aired footage of another part of Romney's speech in which he did say "Vice President." We regret the error, have removed the story, and apologize for the mistake.
For reference, here's a cached version of the original post, which notes that "a reader points the Huffington Post" to footage from Fox News, where, the post says, "Romney's gaffe is noticeably absent." A correction added to the top of the post then notes that the video used "comes from an earlier part of Romney's speech, when he correctly said 'my next vice president of the United States,'" negating the whole premise of a post that has incorrect to begin with. The headline — in a genuinely funny move — was also edited with "(UPDATE: NO)." Have a look: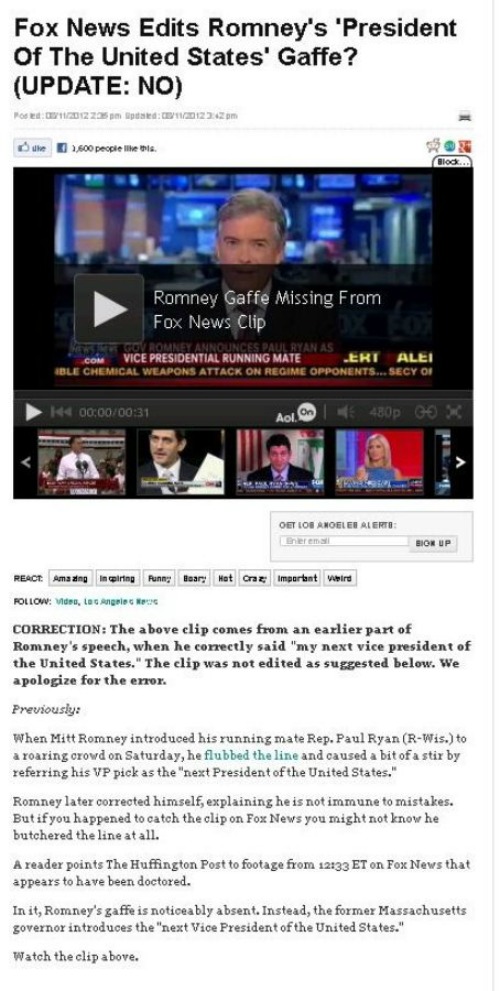 That "reader" kind of sucks.
Have a tip we should know? tips@mediaite.com