Huffington Vs. Obama? The Five Co-Hosts Ponder: 'Trouble In Liberal Paradise?'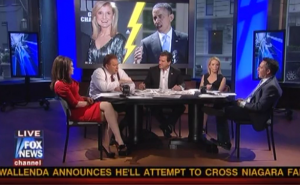 The crew on The Five included a segment on Wednesday about "Obama's liberal backlash." Conservatives stick together, Eric Bolling said. But liberals? "They're fickle little things." He then pointed to the "trouble that seems to be brewing between" Arianna Huffington and President Obama.
RELATED: Huffington Gross: Arianna Huffington Calls Obama Campaign Bin Laden Ad 'Despicable'
"The thing about conservatives is that we stick together through thick and thin, through good times and bad, rain or shine, we're united in one simple thought: we simply want what's best for America," Bolling said. Then, referencing the "fickle" liberals, he discussed the relationship between the "Redistributor-in-Chief and uber-liberal blogger Arianna Huffington."
Starting with Obama, he highlighted the jokes the president made about the Huffington Post during the White House Correspondents' Dinner. You'll recall that he congratulated them on their Pulitzer, quipping, "You deserve it, Arianna. There's no one else out there linking to the kinds of hard-hitting journalism the HuffPo is linking to every single day."
Cut to Huffington's reaction to Obama's Osama bin Laden ad: she called it "despicable." Bolling asked, "Trouble in liberal paradise?"
Kimberly Guilfoyle added in, "I'm not surprised, Arianna's not gonna take anything sitting down. She's not gonna like a barb like that." She went on to say she found Obama's joke "very funny" — one of her favorites of the night.
Bob Beckel said Huffington has built her site on linking, and he still doesn't understand how that issue hasn't gone to court. Pivoting back to the political discussion, Huffington isn't worried about trying to stay the in White House's good graces, Dana Perino said. "She basically says what she thinks."
Offering advice of sorts, Greg Gutfeld said Huffington should give the president the opportunity to write a blog and not pay him, "because that's what she does." He further added, "She fooled celebrities into thinking they could be smart."
Take a look, via Fox News:

Have a tip we should know? tips@mediaite.com