HuffPo's Howard Fineman Says Michele Bachmann's 'Inner Circle About To Tell Her To Call It Quits'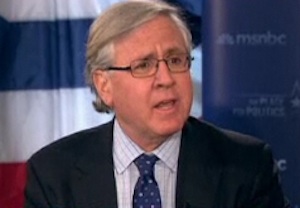 During MSNBC's Iowa Caucus coverage, The Huffington Post's Howard Fineman divulged to Chris Matthews that Michele Bachmann's "inner circle is in the process of telling her it's time for her to drop out."
The cable networks are projecting that Bachmann will finish in 6th place ahead of Jon Huntsman.
"I think as the numbers are beginning to trickle in, I think reality is beginning to dawn on some of the candidates and one of them may be Michele Bachmann who put such a big effort in here. Could not get the full backing of the evangelical pastors in part because of her gender — her staffers are saying privately," Fineman explained. "They don't want to sound like they're complaining but that's part of it."
"Some of them said so publicly. She is now about to be told by her inner circle that she should call it quits, and that conversation my understanding has not quite taken place yet but is about to take place. She is supposed to go to South Carolina tomorrow. She may or may not go but I think there is a very — I just know her top people are telling her or getting ready to tell her that it's time for her to drop out."
"Do you think she might endorse Santorum?" Matthews asked.
"I think she'll wait on whatever she does. I do think her endorsement is valuable and that she has a passionate group of supporters. Other than Ron Paul, I would say the most personally passionate supporters of all the voters taking part in the caucuses tonight were Michele Bachmann 's — there just ended up not being very many of them."
Watch Fineman report on the future of Bachmann's campaign below via MSNBC:

Have a tip we should know? tips@mediaite.com