HuffPo's Sam Stein to Kristol: For Poor Americans, Shutdown 'is the End of the World'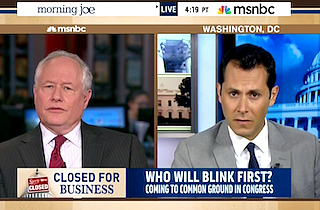 On Morning Joe Wednesday morning, Huffington Post's Sam Stein strongly rebutted Bill Kristol's argument that a government shutdown was not "the end of the world," telling the conservative pundit that Americans who rely on government services like nutritional assistance could not just "wait it out."
"The idea that this is not the end of the world, and that they're funding the three most important agencies?" Stein said to Kristol. "Maybe in your world, it's not the end of the world. I spent six hours last night just surveying local news stories about this. 85,000 people are losing nutritional assistance in Arkansas. That's not inside the beltway, that's in Arkansas. Thirteen head start programs are closing in Connecticut. That's not inside the beltway."
"So for these people affected by these cuts, it is sort of comparable to the end of the world," Stein continued, while Kristol shook his head. "I understand that it's great to wait it out, and to negotiate from the better platform, with more power, and the debt ceiling, and all that. But those two weeks that you wait it out are consequential for a whole number of people. Not just in the agencies that the Republicans wants funded, but many, many agencies beyond that. I think we tend to lose that perspective when we have these types of conversations."
"I think if there are genuine human emergencies, the Republican House should move to fund those relevant programs, but the entire federal government?" Kristol said. "I was chief of staff at the Education Department. I had to designate the essential employees when we shut down. I joked to Bill Bennett, who was my boss, saying should just say that no one in the Education Department is essential, in all honesty? No, that's too flip, because there are people who depend on education funds."
"The truth is, there are parts that are serious, that are urgent, and parts that are not," Kristol continued. "The Republican House can move on a genuine human emergency. But a one- or two-week shutdown is not going to be the end of the world."
"Unless you are on nutritional assistance," Stein replied.
"It's not gonna be the end of the world, honestly, even if you're on nutritional assistance from the federal government," Kristol insisted. "The state of Arkansas can help out. Localities can help out. Churches can help out. I believe that no one will starve in Arkansas because of the shutdown."
"I'm really glad we're gonna open the churches and synagogues for the homeless in America because of this kind of act," Carl Bernstein said.
Watch the full clip below, via MSNBC:
[Image via screengrab]
——
>> Follow Evan McMurry (@evanmcmurry) on Twitter
Have a tip we should know? tips@mediaite.com