HuffPost Reporter Confronts McCain: Does 'Victory' in Iraq Mean Endless War?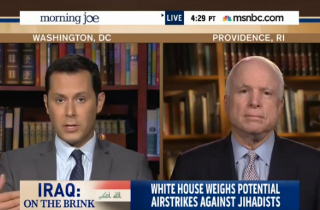 Senator John McCain (R-AZ) and Huffington Post reporter Sam Stein had a rather testy exchange Friday on MSNBC's Morning Joe.
"I just want to nail down what it means to have it won," Stein told the senator at the start of his question. "When we were debating the war [in Iraq], I thought the idea was that we would put up an Iraqi government that would be self-sufficient and an Iraqi military that could protect. We spent $25 billion propping up the military, and it folds, even despite having much greater numbers than ISIS.
"So I'm curious: What is the definition of victory? What is the definition of winning? Does it mean having a residual force basically without end date? I'm just a little bit confused. I want to know what victory is to you."
The senator wasted no time snapping back, hammering Stein for his "confusion":
I think you are confused because you didn't know what happened with the surge where we basically had the country pacified. We had a stable government in Baghdad, and we had the conflict basically — for all intents and purposes — won. We still got troops in Bosnia, a residual force would have stabilized the country. Most military experts will tell you that. So I'm sorry about your confusion, but the facts on the ground were that al Qaeda had been defeated almost completely and with the residual American force and at that time, a strong Iraq. Now, [Iraqi PM Nouri] al-Maliki is very weak. Maliki got worse after we left. And again, I knew this was going to happen, because we didn't leave that force behind. And so I'm sorry about your confusion, but anybody who was there will tell you we had the conflict won.
"I guess I shouldn't myself confused, because it would be used against me," Stein remarked. He then pressed once more: "What is the end date for our forces in Iraq? Is it open-ended? And if that's the case, because we need to have a residual force there to prop up the Iraq government indefinitely, is that how you see it?"
In return, McCain cited residual American troops stationed in Germany, Japan, Korea, and Bosnia as having successfully stabilized regions American forces have previously occupied.
Watch the exchange below, via MSNBC:
[h/t Free Beacon]
— —
>> Follow Andrew Kirell (@AndrewKirell) on Twitter
Have a tip we should know? tips@mediaite.com