Hugh Hewitt Flip-Flops On Trump, Now Says He's 'Inclined To Cast' His Vote For Him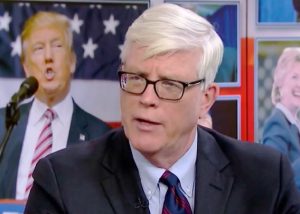 During an appearance on MSNBC this afternoon, conservative radio host Hugh Hewitt declared that he was leaning back towards Republican presidential nominee Donald Trump's way. This comes roughly three weeks after Hewitt called for Trump to drop out of the race because he felt there was no way he could win.
Speaking to host Steve Kornacki, Hewitt discussed the tension between Trump and Speaker of the House Paul Ryan, who has voted for Trump but will not campaign for him. After bringing up the poll numbers in Wisconsin and how the Senate race is tied and Trump is down six points in the state, Hewitt said it was possible that Wisconsin could flip for Trump, noting a few other blue states that the real estate mogul needs to switch red.
Kornacki then asked where was Hewitt on the race, bringing up his statements following the Access Hollywood tape. Hewitt responded by saying "I wait on events."
The conservative host then noted that he doesn't have to cast his absentee ballot for a few days and thus was able to see what happened, explaining that "he's inclined to cast it for Donald Trump."
Now, just to highlight where Hewitt has been at various times this election, he's not only called on him to drop out last month, but also said the GOP should have changed their convention rules to dump Trump as the nominee.
Watch the clip above, via MSNBC.
[image via screengrab]
–
Follow Justin Baragona on Twitter: @justinbaragona
Have a tip we should know? [email protected]