Huh? Carville Calls Anti-Clinton Author 'Anti-Disney, Gay Bike Bar Glenn Beck'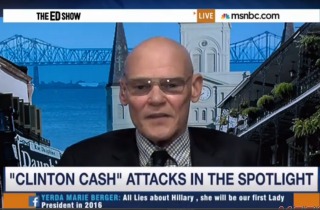 Help wanted: Can someone please explain what James Carville meant by the following description of Peter Schweizer, the conservative author of Clinton Cash? "This anti-Disney, gay bike bar Glenn Beck or whatever this guy is."
During an interview with MSNBC's Ed Schultz on Thursday, long-time Clinton friend Carville dismissed Clinton Cash and subsequent media reports about the Clinton Foundation's donations from foreign governments and corporations. The most controversial story thus far has been the New York Times report on how a Russian group donated to the foundation at the same time Hillary Clinton's State Department was approving a deal for Uranium One to be sold to Russia.
"As a political consultant to a campaign that would run into something like this," Schultz asked Carville, "what would be your advice?"
"I think they're doing pretty good," Carville replied. "The whole book, Clinton, whatever this is — this guy's anti-Disney, the gay bike bar Glenn Beck or whatever this guy is — I think pushback on it has been pretty effective. This'll happen and then next week they'll think of something else."
What is an "anti-Disney, gay bike bar Glenn Beck"? Some of our staff hear it as "anti-Disney, gay Breitbart Glenn Beck," but that still doesn't explain anything at all. As Mark Finkelstein noted at the conservative NewsBusters blog: "It's true that Schweizer was a contributor to one of Beck's books. And Schweizer is the author of Disney Betrayed, which criticizes the company for various things including sponsoring "Gay Days" at their parks."
So that's… some explanation.
Watch below, via MSNBC, and take the poll below that to tell us what you think he said:
— —
>> Follow Andrew Kirell (@AndrewKirell) on Twitter
Have a tip we should know? tips@mediaite.com