Huh? Diane Sawyer Claims Wall Street Protests Have Spread To 'Thousands Of Countries' (UPDATE)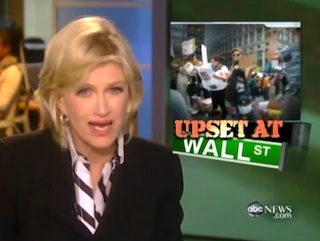 Guys, the Wall Street protests are huge. How huge? So huge that they've spread to hundreds of countries all over the world that don't even exist!
At least that's what it appears if we are to believe a fairly goofy gaffe from Diane Sawyer. Last night on World News, Sawyer remarked that the protests had "spread to more than 250 American cities, more than a thousand countries — every continent but Antarctica." In case you're curious, the United States government currently recognizes, oh, about 195 countries.
Of course, there could be a simple explanation for this. For all we know there are thousands of different sovereign nations in the animal kingdom. I haven't stared at the ground too much recently. For all I know there is tons of dissent amongst the world's ant countries with tons of worker ants throwing down their shackles and protesting against the cruel ant bourgeois.
However, Sawyer could have just made a little mistake, an explanation that's much more likely as well as much less interesting. Yes, simple verbal flubs are difficult to wring a full post out of.
Which is probably why I just wrote a full paragraph about ants. That and I've really been in the mood to rewatch that Woody Allen cartoon movie.
UPDATE: An ABC spokesperson tells Mediaite that Sawyer simply misspoke and corrected herself for later editions of World News in the western time zones. They had little to add about the movie Antz.
Watch the clip below via ABC News:
h/t NewsBusters:
Have a tip we should know? tips@mediaite.com