Huh?: Eric Bolling Theorizes That Obama Is Only Fighting Catholics To Help Santorum To Hurt Romney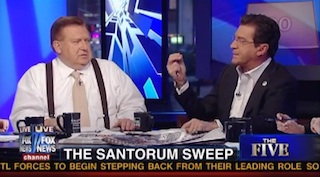 There are certain words and phrases that we here at Mediaite keep our ears open for when scanning the airwaves. Whenever an anchor starts a comment or segment by saying something like "This may make people mad but…" or "I don't mean to sound racist but…", it usually means that what they have to say is going to make for good, blog-worthy television. We can add to that list another great conversational preface in the phrase "Can I just throw a conspiracy theory out here?" That's the question Eric Bolling asked on today's The Five and, hoo boy, did he deliver.
Basically, Bolling theorized that the only reason the Obama Administration has gotten into this birth control fight with religious groups is because it's part of a secret plan to hurt Mitt Romney.
Wait, what? I'll let him explain:
BOLLING: Can I just throw a conspiracy theory out here? Here's what I thought. I was sitting at home this morning, I watched it. I saw [Santorum's] win. Then I listened to all the talking heads say, 'Oh my gosh, Obama really screwed up here. This is a great opening for Conservatives and the Right.' and it dawned on me-

BOB BECKEL: Screwed up on what?

BOLLING: Good point. Going after this Obamacare, making sure Catholic employers are required to provide sterilization and abortions and whatnot.

BECKEL: Alright.

BOLLING: So, it dawned on me, what if they were trying to derail this big Romney train that won Florida handily, that won Nevada handily. They go, 'How are we gonna break up this train? How are we gonna break the Right up?' And they did. They picked the very, very right side, partisan issue.
So, let me get this straight. President Obama's staff got worried that Mitt Romney was doing so well that they made a deliberate decision to piss off our nation's Catholics so that other Christians will also be pissed off and will want to get him out of office which will cause them to vote in the primary but, since they're religious, they'll vote for Rick Santorum instead of Romney which will hurt Romney's momentum so that he won't be able to beat Obama. Uh huh. Let that stew in your heads a bit.
After listening to the whole thing, Bob Beckel looked at Bolling and responded, "You know something, there was somebody on the grassy knoll in Dallas too."
Andrea Tantaros, however, was much more accepting of the theory, positing that the Democrats want to talk about social issues like this Catholic thing until the election instead of other topics. That makes a whole lot of sense too. Clearly the Democrats are driving this conversation which is why they have their favorite media network devoting an entire segment to it on every show. You know what network I'm talking about; Fox News.
Perhaps in a helpful attempt to make Bolling's theory seem more rational, Greg Gutfeld followed it up with a rambling, stream of consciousness analogy comparing Mitt Romney to Marsha Brady's boyfriend in the episode of The Brady Bunch where she gets hit in the nose with a football.
Basically, this was a very confusing couple of minutes of television. And you can watch it all, courtesy of Fox News, below:
Have a tip we should know? tips@mediaite.com