Huh? CNN Spins Worst Ratings In Years: "10 Million More Viewers Than Fox News"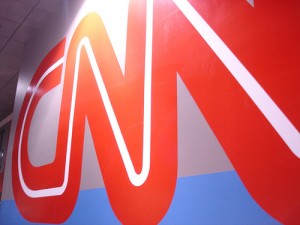 With two weeks left to go, 2010 is looking like a year to forget for CNN. The network's primetime shows, including the heavily hyped but poorly performing Parker Spitzer have failed to stem the serious ratings losses that have plagued the network for more than a year.
When year end figures are released soon, it's almost certain to be CNN's worst performance in over a decade.
But that's not how the story goes in CNN's year-end news release–out today–which leads with this bold claim: "CNN Reaches 10 Million More Viewers Than Fox News and 13 Million More Than MSNBC in 2010."
Wait. What? CNN's number one all of a sudden? How'd that happen?
Well, CNN's performed some number-crunching magic with the year-end ratings (and it's not the first time, either) to find something shiny hidden amid all the wreckage. The network's claim to Number One status, by averaging "96.4 million monthly viewers–10 million more than Fox News Channel (85.7 million) and 13 million more than MSNBC (83.3 million)" is based on a "cumulative audience" that counts the total number of different viewers who turn on a channel over a set time period.
While you've got to give CNN credit for creativity, advertisers just don't pay any attention to statistics like that. They care about demographics, and average audiences for various cable news shows. And by that measure–also known as the industry standard–CNN is getting killed.
According to Nielsen Media Research, for the year to date (ending December 13) CNN's ratings among viewers 25-54 (the key news demographic) cratered in 2010, plummeting 34 percent in primetime–the biggest decline of any network.
Fox News, by comparison, was off 7 percent compared to 2009, but still easily dominated primetime with an average of 503,000 viewers 25-54. MSNBC (off 10 percent) came in second with 249,000. CNN was third with 174,000 followed closely by sister network HLN with 144,000 (another big drop–viewership off 32 percent from 2009).
That marks the second year in a row that MSNBC has come in second–and CNN third in this key demographic. If ratings hold on the current trend, MSNBC will also beat CNN in terms of total primetime viewers for the first time ever.
All of this is not to say that CNN doesn't have anything to feel good about. It does. CNN's digital and online performance leads both MSNBC and Fox News, and HLN's morning show Morning Express with Robin Meade will celebrate 2010 as its best year ever, beating MSNBC's Morning Joe for 12 consecutive months–a claim CNN makes the old fashioned way: in terms of viewers 25-54.
Have a tip we should know? tips@mediaite.com