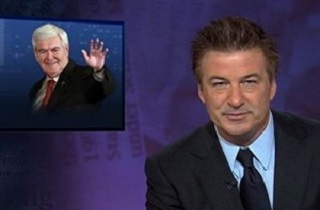 The reported hiring of Alec Baldwin to helm a Friday night show on MSNBC is a step toward the pop-culture expansion that network president Phil Griffin spoke of recently, but it's a step away from the diversity that has been a major source of his channel's appeal, and of its growth. If the idea was to hire a movie or television star to expand MSNBC's subject matter, surely Griffin could have found one who wasn't such a poster boy for white male privilege, and hadn't recently demonstrated that by delivering an unapologetically homophobic rant to a gay reporter, and apologized by pointing out how lucky the gays were to have him.
If you missed it, Baldwin went on a Twitter rant against British reporter George Stark  (whose provocation is, in my view, irrelevant), in which he tweeted the following:
My wife and I attend a funeral to pay our respects to an old friend, and some toxic Brit writes this fucking trash

If put my foot up your fucking ass, George Stark, but I'm sure you'd dig it too much

I'm gonna find you, George Stark, you toxic little queen, and I'm gonna fuck…you…up.

George Stark, you lying little bitch. I am gonna f%#@ you up.
Columnist Andrew Sullivan rightly denounced Baldwin, and only slightly oversold the rant when he called it an incitement to gay-bashing. Technically, Baldwin was only threatening to harm Stark himself, and although his insults were anti-gay, the impetus for the violence was clearly not the man's sexual orientation. That small distinction, however, gave Baldwin what he thought was an opening to dismiss the whole thing by apologizing, not to Stark, but to GLAAD (emphasis mine):
"My ill-advised attack on George Stark of the Daily Mail had absolutely nothing to do with issues of anyone's sexual orientation.  My anger was directed at Mr. Stark for blatantly lying and disseminating libelous information about my wife and her conduct at our friend's funeral service.  As someone who fights against homophobia, I apologize.

I have worked, periodically, with numerous marriage equality organizations, especially over the past couple of years, to achieve the very rights that gay couples are earning by recent court decisions. I would not advocate violence against someone for being gay and I hope that my friends at GLAAD and the gay community understand that my attack on Mr. Stark in no way was the result of homophobia.

Many Thanks, Alec Baldwin."
GLAAD magnanimously accepted Baldwin's apology for the rest of us, without either of them noting the fact that Alec Baldwin's slurs were, themselves, violence against a person for being gay. As GLAAD must surely know, and Baldwin must surely be taught, language like his kills. Baldwin may have secured forgiveness from the organizations that depend on him for cocktail party bait, but members and allies of the LGBT community aren't likely to forget the naked, vicious hostility in Baldwin's rant, or the arrogance of his alleged apology. Those who think it's enough that Alec Baldwin isn't "anti-gay" miss the point; Baldwin violated their trust, and has done nothing to regain it. I won't be watching, and I'm probably not alone.
But even notwithstanding that controversy, Griffin has missed an opportunity to further broaden the diversity of hosts on the network. I'm not saying he should never hire another straight white male, but if he does, it had better be a sharp, well-informed one who can appeal to MSNBC's audience.
Have a tip we should know? tips@mediaite.com