'I'd Rather Be A MILF Than A Fat, Loser Woman': Hannity Panel Goes Off The Deep End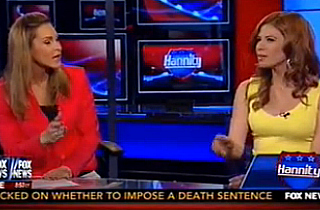 During a Wednesday evening Hannity segment on the overplayed Adam Levine non-troversy, things became a bit heated when the topic turned to whether conservatives can take a joke — including one guest's exclamation that she would rather be called a "MILF" than a "fat, loser woman."

Guests Tamara Holder and Michelle Fields were going head-to-head over whether Levine's silly "I hate this country" comment means he actually hates America before things somehow got even sillier.
"You typically hear this liberal saying that conservatives are always outraged by everything, they don't know how to take a joke," Fields told her liberal co-panelist. "Look, we know how to take a joke. It's not our fault if you don't know how to deliver it."
"Oh, like Bill Maher who called Sarah Palin a MILF?" Holder shot back, referring to the HBO host and other liberal comics referring to the former Alaskan governor as a "Mother I'd Like to Fornicate" (that's not the real "F" here, but you get the point).
"You think it's appropriate to call a mother that name?" Hannity asked Holder.
"You actually said that on Hannity's show one time. You enjoy being called that," Fields chimed in, before this particular exchange happened [emphasis added]:
HOLDER: First of all, I'm not a mother. Second of all, you don't have to personally attack me for what I said.

HANNITY: You don't find that offensive?

HOLDER: No, I don't. I'd rather be a MILF than a fat, loser woman.

FIELDS: I'd rather be respected.

HOLDER: Why can't you be both? Why can't you be good-looking…?

FIELDS: When someone says that you are a "MILF," that's not a very respectful way to address a person. I personally don't think so.

HOLDER: Well, guess what? We can have a difference of opinions, and that's what makes America great.
And… so… that happened.
Watch below, via Fox:
— —
>> Follow Andrew Kirell (@AndrewKirell) on Twitter
Have a tip we should know? tips@mediaite.com