'I Am Not Ovary-acting': The Best Homemade Signs From the Women's March on Washington
Just one day after President Donald Trump took the Oath of Office on the steps of our nation's Capitol, upwards of 500,000 people have descended onto the National Mall for the Woman's March on Washington. It's a surreal scene the likes of which few have ever experienced; if those early estimates by the March's organizers are correct (whereas early predictions ranged closer to 200K), it would be one of the few largest activist gatherings in Washington in American history.
The factions there — and in cities all across the nation in solidarity today — have gathered for a myriad of social justice causes: feminism, the rights of the LGBTQ community, climate change, the disabled community, Black Lives Matter, and women's healthcare to name just some, largely with a message to the newly-installed Trump administration: our rights will not be scaled back.
Along with the most vociferous warriors championing their causes today, plenty brought humor to the dotted landscape of homemade signage. Check out the best that I caught this morning along Independence Avenue, 3rd St SW, and the National Mall today (all photos: J.D. Durkin/Mediaite)
A Bit Cheesy
Really?
'Trust Me'
That's One Way to Get Attention
Doesn't Seem Right...
Cabinets
Keep You Little Hands...
FAKE
Grab
THAT Moment...
Moscow
Only Weak Men...
Ovary-Acting
Resistance
A Julie Andrews Spinoff
Shoes
...Grabs Back
Nacho Taco, Donald
Big Family of Signs
twitter
Vagina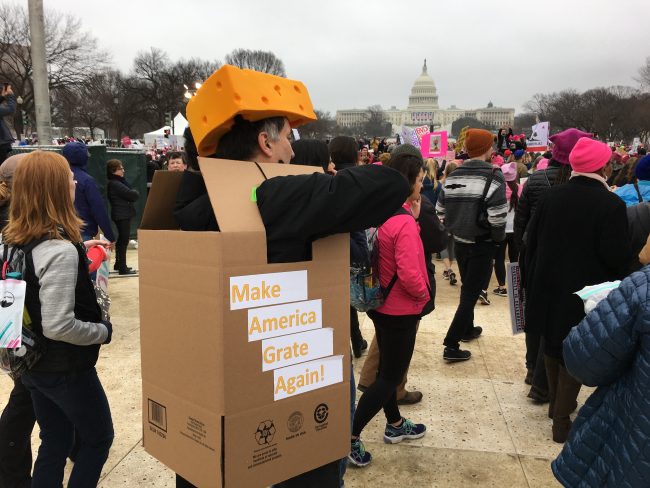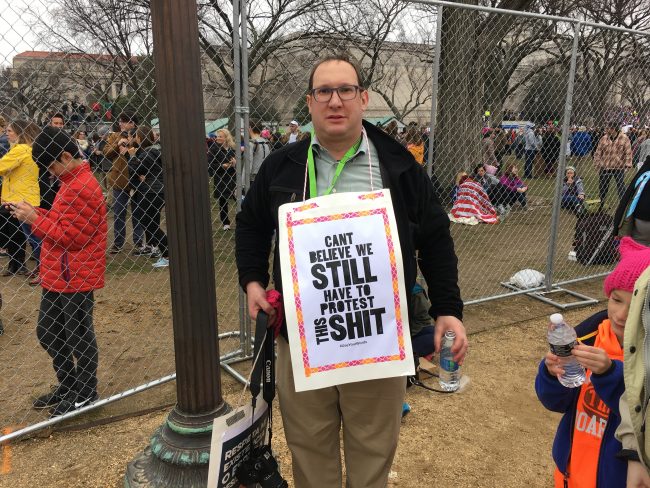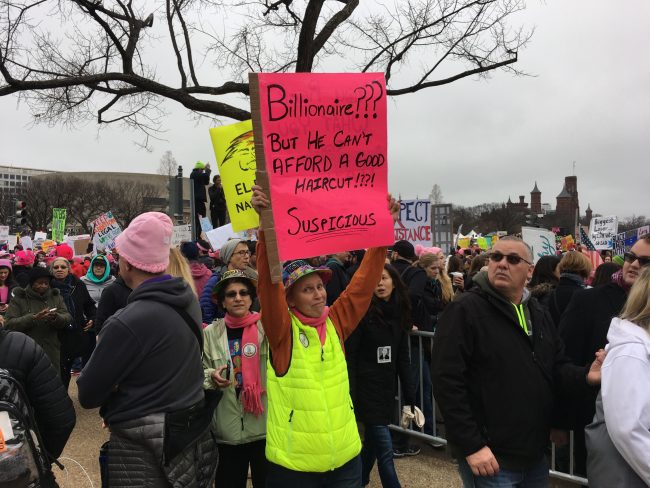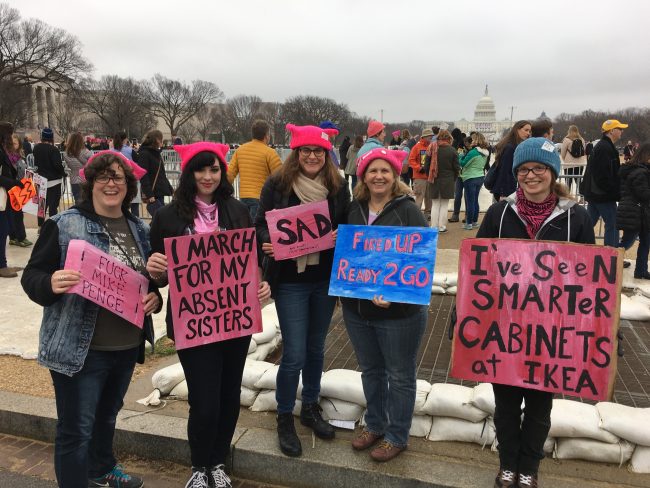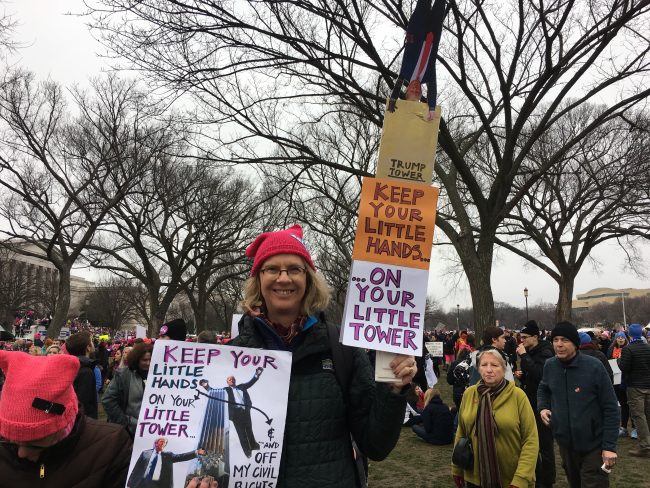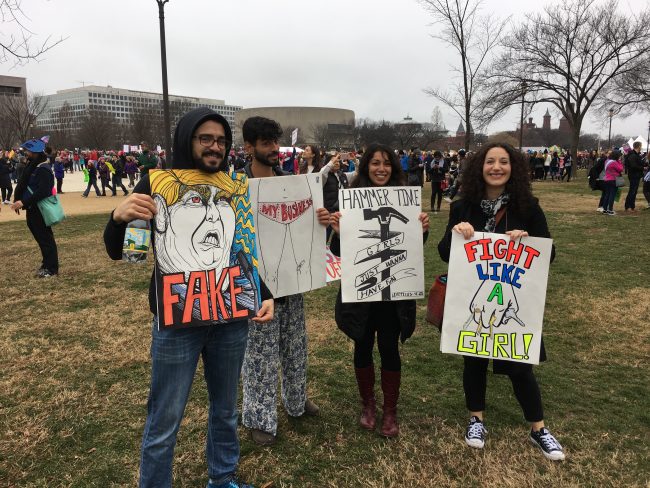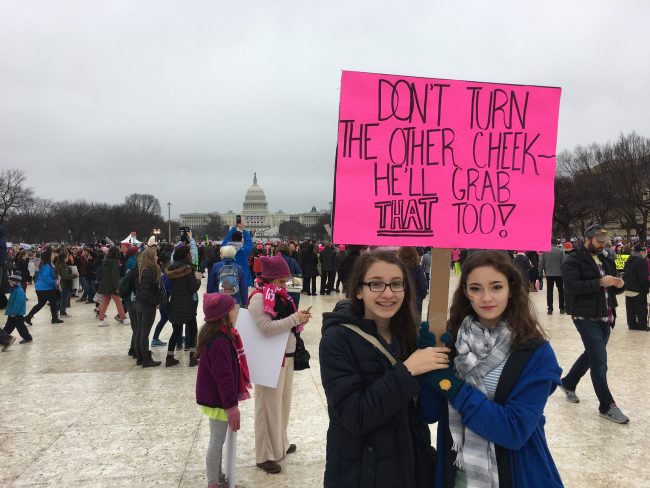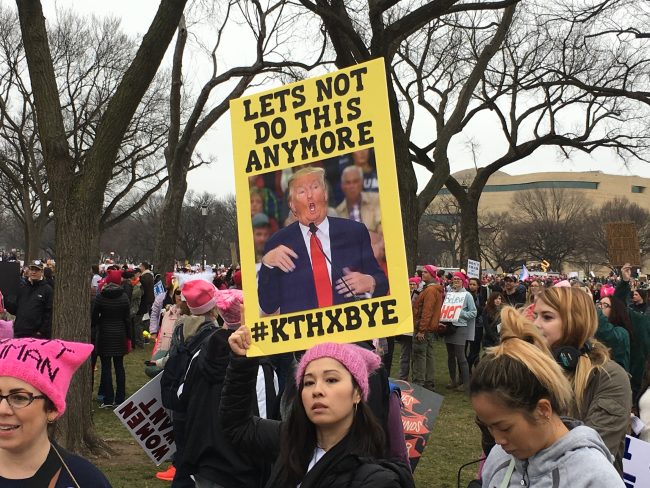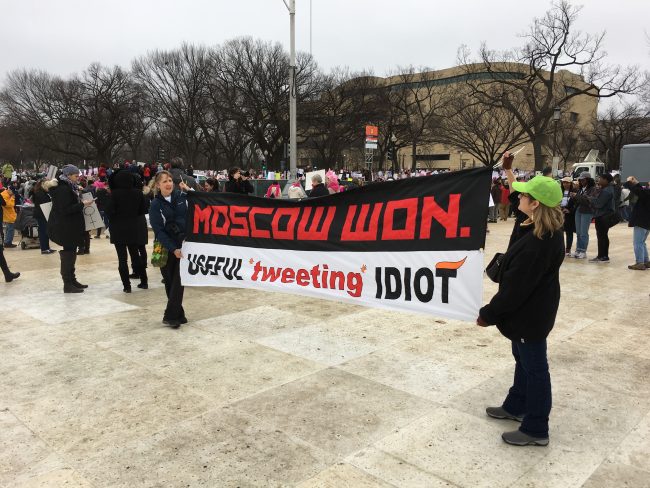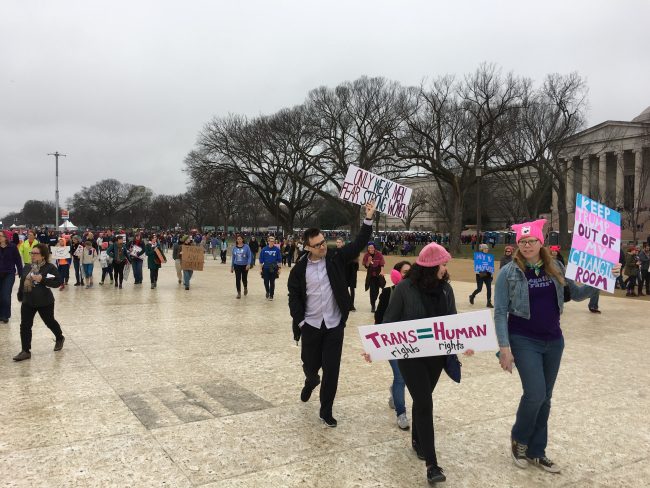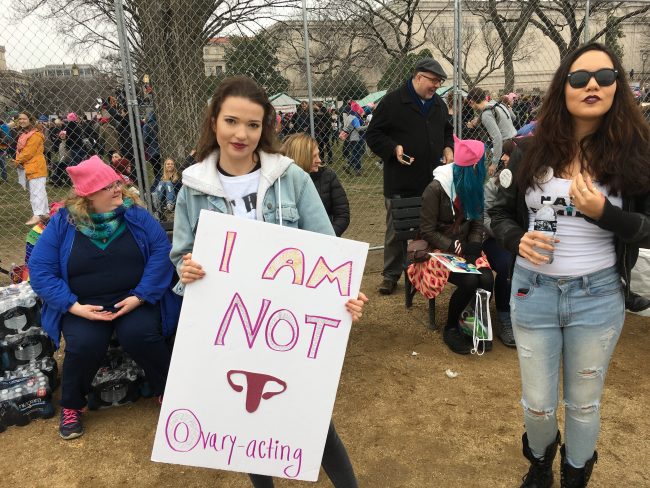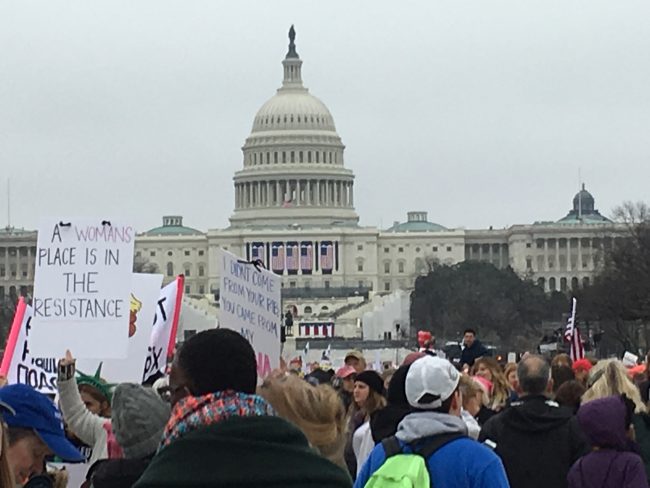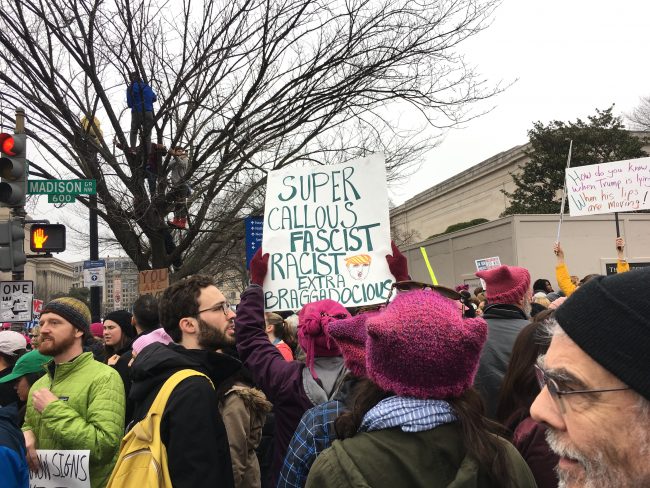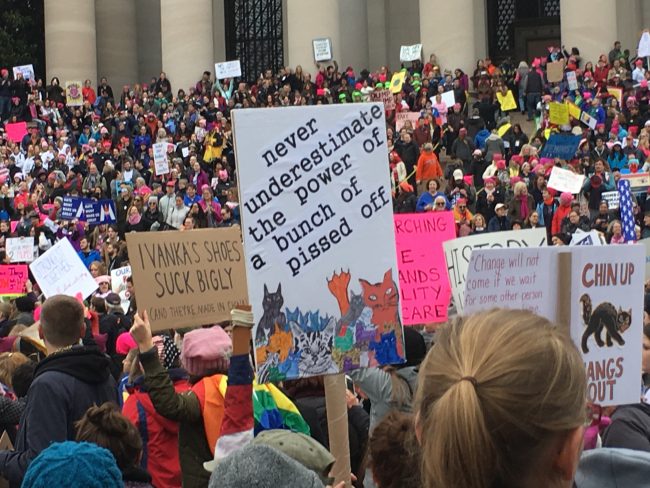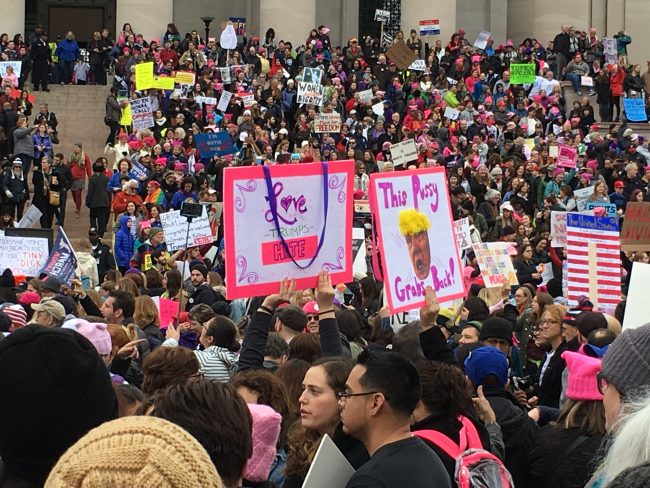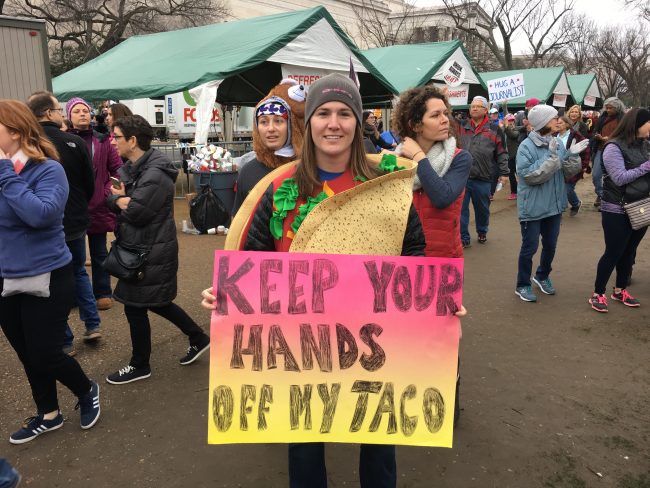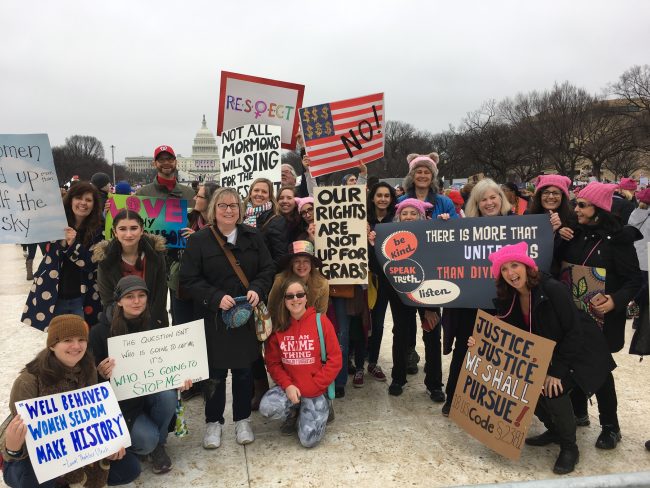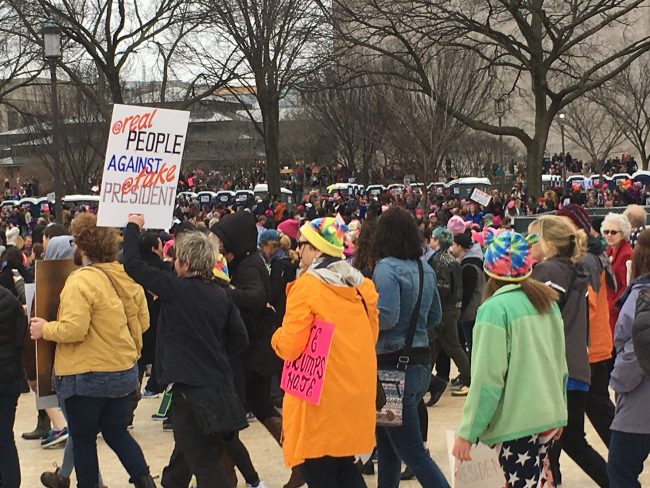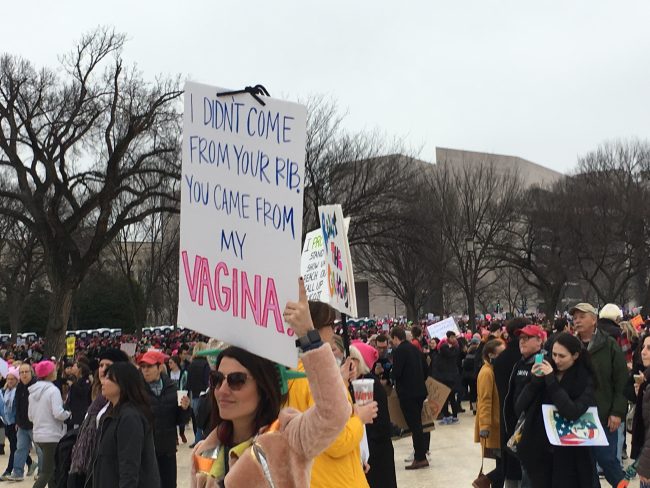 Not a Packers fan, but I do love a good pun, so I'm willing to overlook the cheesehead and give this man a well-deserved shoutout.
This father was all too willing to stand at attention and show off his sign, which he hung proudly around his neck in front of the National Gallery of Art.
"I know signs, I make terrific signs, I have the best signs, Trust Me." This lady here made a great sign -- doesn't need a whole lot of pizzaz to convey the joke, either. Good stuff.
This boob-holding duo were the hit of National Mall on Saturday. Not technically a "sign," but creative and a crowd-pleaser.
This woman and her pal were crossing the National Mall and making people laugh the whole way. "It's too suspicious!" she kept saying.
This girl to the right is taking on Trump's new Cabinet with humorous precision that won her several high-fives from Marchers.
This woman made a cardboard cutout of Trump Tower and really put a good amount of work into her signs. I appreciate the effort. "Keep your little hands on your little tower and off my civil liberties," she proclaims.
This dude's attention to detail and color scheme on his "FAKE" sign drew me in, and his friends also made out nicely.
A mother saw me photographing signs and she stopped me and said, "My daughter's is good too!" She didn't disappoint.
Don't think I've ever used #kthxbye on social media, but everyone around this girl knew the *exact* moment from the campaign trail she was referencing.
There was a lot of Russian imagery throughout the day, but these two ladies were especially a hit for photos.
"Only weak men fear strong women," was on a lot of signs today, but this was the only guy I saw parading it around, so he makes the cut.
This here is a great sign as far as signs go. Great little pun, and it doesn't need a ton of fancy work.
Star Wars anyone? There were lots of Princess Leia/ Women/Resistance themes at play in the signage Saturday in our nation's capital.
I feel like I saw this on some memes during the campaign, but this Julie Andrews spinoff still made for a high-quality fan-favorite sign Saturday.
Thousands of the Marchers in Washington today showed up to combat Trump's personal rhetoric against women; his Access Hollywood tape was a popular target. Also, the guy holding the "Ivanka's Shoes Suck Bigly" sign gets bigly honorable mention here.
Due to the massive overflow of the corner of Independence Ave and 3rd St SW, protestors took to the National Gallery steps and chanted all day long.
Me: "Hey your outfit looks great, can I take a picture?" Lady: "Hell yeah man, that's why I wore it!" A lot of the Marchers took on Trump's Access Hollywood "Grab 'em" tape to the extreme in satire and activism today.
"Not all Mormons will sing for the President," one person in this large traveling group said. Here you can see a good splattering of the different causes represented in today's March in Washington.
This woman's use of the @realDonaldTrump Twitter handle was spun nicely for a popular sign in D.C.
A girl maybe 12 years old or so near me read this sign aloud as this woman was proudly waltzing by; her mother replied, "That's right."
—
J.D. Durkin (@jivedurkey) is an editorial producer and columnist at Mediaite.
This is an opinion piece. The views expressed in this article are those of just the author.
---