'I Am Your Voice!': Trump Takes Stage at RNC, Decries Hillary Legacy of 'Destruction'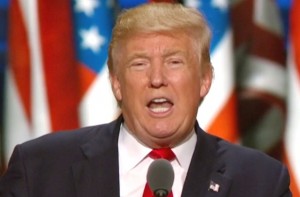 Donald Trump took the stage at the Republican National Convention tonight to finally deliver the biggest speech of his career and his first as the official nominee of the Republican Party for President of the United States. And the biggest theme of the speech was, as he said at the outset, "law and order."
"Americans watching this address tonight," Trump said, "have seen the recent images of violence in our streets and the chaos in our communities. Many have witnessed this violence personally, some have even been its victims. I have a message for all of you: the crime and violence that today afflicts our nation will soon come to an end. Beginning on January 20th 2017, safety will be restored."
He laid out every "domestic disaster" and "international humiliation" that the United States has succumbed to under President Obama and, of course, the foreign policy record of Hillary Clinton.
In fact, Trump even went so far as to say that making Clinton his Secretary of State is a decision Obama regrets, because of her legacy of "death, destruction, terrorism and weakness."
He hammered home his "America First" theme––"Americanism, not globalism, will be our credo!"––and declared in a booming voice, "I am your voice!"
At one point, the speech was interrupted by a Code Pink protester.
He scolded President Obama for making America "a more dangerous environment" with his "irresponsible rhetoric… to divide us by race and color."
Instead of his now-infamous Muslim ban, Trump said tonight, "We must immediately suspend immigration from any nation that has been compromised by terrorism until such time as proven vetting mechanisms have been put in place. We don't want them in our country!… Anyone who endorses violence, hatred or oppression is not welcome in our country and never ever will be!"
He talked at great length about illegal immigration, the victims of those killed by illegal immigrants, and how if he's president, "Americans will finally wake up in a country where the laws of the United States are enforced. We are going to be considerate and compassionate to everyone."
Trump made lots of grand promises about what he will do on trade (reject deals that aren't in America's interests), infrastructure, education, health care, and taking care of America's veterans. And for any wary conservatives out there, he assured that he would appoint strong conservative Supreme Court justices and he is committed to defending Americans' Second Amendment rights.
He even promised evangelicals he would repeal the law that keeps religious figures from speaking their minds on politics from the pulpit, and once again said that unlike Clinton's "I'm With Her," his pledge is "I'm with you!"
Trump concluded, "We will make America strong again. We will make America proud again. We will make America safe again. And we will make America great again.
We will add video when it becomes available.
[image via screengrab]
— —
Follow Josh Feldman on Twitter: @feldmaniac
Have a tip we should know? tips@mediaite.com
Josh Feldman - Senior Editor