'I Can Use All the Help I Can Get': Sheriff Defends Open Carry Call for Gun Owners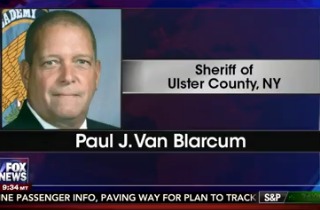 During today's Happening Now, Jenna Lee interviewed Ulster County Sheriff Paul J. Van Blarcum and allowed him to elaborate on his appeal to community residents to use their legal right to carry firearms in the wake of the San Bernardino shooting.
Van Blarcum received some attention over the past two days after he took to Facebook and encouraged people who have licenses to carry and knowledge of state laws to assert their rights to bear arms in public. While the violence in California has refreshed the debate surrounding gun control, Van Blarcum said that the response in his community has largely been positive, and impressed that his call was purely in the interest of getting the community involved in creating safety.
"I'm not looking for a fight, just really wanted to remind our licensed handgun owners that if you're proficient with it and you're responsible, you should be out there," Van Blarcum said. "Law enforcement and the community are partners in crime prevention, and i can use all the help I can get."
When Lee asked about concerns from those who think that having more guns in the public environment would only make lethal violence more likely, Van Blarcum responded that there's a possibility that a massacre like San Bernardino's wouldn't happen to its degree if a gunman was stopped by a carrying civilian.
"I'm not telling anybody to go out and get arms, but if you've gone through the process, I'm encouraging you to carry it, if you're comfortable," Van Blarcum said. "I'm not telling anybody that doesn't want to, it's a personal decision."
Watch above, via Fox.
[Image via screengrab]
— —
>> Follow Ken Meyer (@KenMeyer91) on Twitter
Have a tip we should know? tips@mediaite.com