'I Dare You…To Do Better': Obama Calls On Ohio State Graduates To Embrace 'Citizenship' In Commencement Address
'I Dare You...To Do Better': Obama Calls On Graduates To Embrace 'Citizenship' In Commencement Speech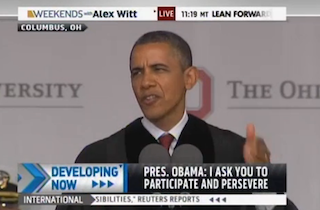 "I dare you…to do better," President Obama urged the 2013 Ohio State University graduates when he delivered the commencement address on Sunday. In a speech focused on "citizenship," the president called on the students to reject cynicism and strive to remain informed and engaged.
Obama spoke to a stadium packed with more than 57,000 attendees, addressing the students who grew up during a time of economic trouble, war, and terrorism. "You have been tested and tempered by events that your parents and I never imagined we'd see when we sat where you sit," he said. "And yes, despite all this — or perhaps because of it — yours has become a generation possessed with that most American of ideas: that people who love their country can change it for the better."
That last remark was the theme that united the speech — during which Obama recalled recent events (such as the Boston bombing, Texas fertilizer plant explosion, and mass shootings) and praised the "courage and compassion, a sense of civic duty, and a recognition that we are not a collection of strangers."
Quoting his predecessor, who spoke at Ohio State in 2002, Obama said, "America needs more than taxpayers, spectators, and occasional voters. America needs full-time citizens."
Lamenting a political system that gets caught up in the "small things," the president told the students, "This is a joyous occasion, so let me put this charitably: I think it's fair to say our democracy isn't working as well as we know it can."
He elaborated on the topic, speaking of the gridlock and the divisiveness, adding, "Only you can ultimately break that cycle." But that "it requires your dedicated, informed, and engaged citizenship."
"We have never been a people who place all our faith in government so solve our problems — we shouldn't want to. But we don't think the government is to the source of all our problems, either," Obama asserted.
The president underlined the need to keep the notion of citizenship alive, and that it comes not in short bursts, but should be a constant. He asked that the students "participate" and "persevere."
In a speech focused on this broad theme, Obama said he would not get partisan — but pointed to the voices of cynicism, urging students to "reject" it and challenging them to tackle pressing issues with determination.
"I dare you, Class of 2013, to do better," the president challenged. "I dare you to dream bigger."
Watch below, via MSNBC:

Have a tip we should know? [email protected]