'I Don't Know Why You Are So Hot About This!': Reince Priebus Battles Chuck Todd Over Russian Hacking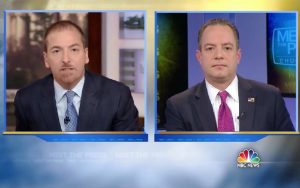 President-elect Donald Trump's Chief of Staff Reince Priebus appeared on Meet the Press this morning to discuss news that ExxonMobil CEO Rex Tillerson is the likely pick for Secretary of State and reports that the CIA have concluded Russia interfered in the election to assist Trump.
After talking about Tillerson, telling host Chuck Todd that no announcement would be made about Secretary of State today, Priebus got into a heated and contentious conversation about whether or not Russia was involved in hacking emails to impact the election.
After Todd brought up the Washington Post article regarding the CIA's assessment and noted that NBC had confirmed it, Priebus said that while Trump has confidence in the America's intelligence agencies (despite statement's from his team) they don't have confidence in the Post. He also disputed a New York Times report that the RNC was hacked, saying that was false.
The MTP host pushed back, asking if Priebus could guarantee that nobody involved with the RNC was affected by hacking, leading Priebus to strongly respond.
"I don't know why you are so hot about this," the RNC chairman exclaimed. "The fact of the matter — the RNC was not hacked."
The two continued to engage in an intense back-and-forth, with Todd asking Priebus if he is going to just claim that Russia was not involved in "any way, shape or form" and the Trump staffer referring to the Times report as a "false article."
Todd also pointed out that Trump has received intelligence briefings that have told him this. Priebus replied by saying he himself hasn't been involved in those briefings and once again hammering away at the New York Times to assert that Todd had no real sourcing.
The NBC News host also noted that 17 intelligence agencies had assessed that Russian agents were behind the hacking, only for Priebus to say that was inconclusive.
Check out the clip above, via NBC News.
[image via screengrab]
–
Follow Justin Baragona on Twitter: @justinbaragona
Have a tip we should know? tips@mediaite.com