'I Don't Speak for Jews': Jake Tapper's Interview with Curt Schilling Took a Strange Turn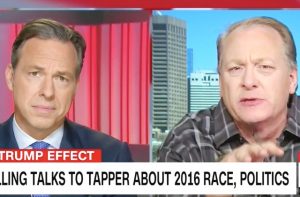 CNN's Jake Tapper interviewed Curt Schilling today and it was going pretty well until Schilling started asking Tapper some personal questions…
Schilling spoke with Tapper about his plans to consider a run for Senate against Elizabeth Warren in 2018, which he made clear would have to be a family decision.
But then Tapper confronted Schilling on sharing memes in the past that ridiculed trans people and likened Muslims to Nazis. Both of those things got Schilling in hot water with ESPN––the anti-trans meme got him fired––but Schilling said it was unfair to 1) judge him on a meme someone else made that he shared, and 2) to think he was attacking all Muslims and not just the extremists.
Tapper also asked him about his reaction to Donald Trump's now-infamous remarks about grabbing women in that 2005 audio. Schilling said they were both indefensible and over-covered by the media. And then this exchange happened:
SCHILLING: I'm assuming that you're gonna vote for Hillary Clinton.

TAPPER: No.

SCHILLING: Okay, I'm assuming you're not gonna vote for Donald Trump.

TAPPER: I don't vote in presidential races.
Schilling went on to say to Tapper, "As a person who's practicing the Jewish faith and has since you were young, I don't understand… how people of Jewish faith can back the Democratic party, which over the last 50 years has been so clearly anti-Israel."
Once he was done, Tapper matter-of-factly told him, "Well, I don't speak for Jews and I don't support the Democratic Part or the Republican Party." He went on to offer an explanation to him for why, he assumes, any Jews would support Democrats.
After the interview, Tapper tweeted further explanation of his comment about not voting in elections he covers:
People asking about my comment (in my convo with @gehrig38 just now) that I don't vote in elections I cover. A few points….

— Jake Tapper (@jaketapper) October 21, 2016
…1) it feels like an investment & last time I did it (2000) I didn't like wondering having made a choice if it impacted my coverage…

— Jake Tapper (@jaketapper) October 21, 2016
…2) this isn't anything other than a personal decision. I don't think other journos should vote or not vote….

— Jake Tapper (@jaketapper) October 21, 2016
…3) this is just for races I cover. I still vote for mayor etc 4) i live in DC so it's a decision that actually has little consequence.

— Jake Tapper (@jaketapper) October 21, 2016
Watch above, via CNN.
[image via screengrab]
— —
Follow Josh Feldman on Twitter: @feldmaniac
Have a tip we should know? tips@mediaite.com
Josh Feldman - Senior Editor