'I Don't Think So': Franklin Graham Doesn't Think Islam Is Compatible With American Values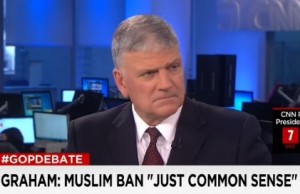 Pastor Fraklin Graham, son of the famous Billy Graham, told CNN's Carol Costello that he didn't think Islam was compatible with American values during a discussion of Republican presidential candidate Donald Trump's proposed Muslim immigration ban.
"Is Islam compatible with American values?" Costello asked blatantly.
"I don't think so," Graham responded.
Despite his answer here, the president and CEO of the Billy Graham Evangelistic Association explained earlier that he wanted people of all faiths to join him on his upcoming 50-state prayer tour leading up to the November election.
"I don't have really much hope for the Democratic party, the Republican party, the Tea party, or anybody else — our system is broken," said Graham. "The only principles that really work are God's principles. I'm asking for Christians, or anybody, to join me at the Capitol and to pray for our nation."
Costello pushed Graham for details, asking if practicing Jews and Muslims were also allowed to join in prayer at his event.
"Anybody. Everybody is welcome. Absolutely, Muslims will be welcome," he explained. "People that would be willing to come and to pray, and to pray for our nation, and to pray for its leaders."
Graham then pushed specifically for Christians to vote and run for office. Again, Costello called him out for his emphasis on Christianity, noting that the United States is "a nation of all faiths." "We are," he said, "but God's principles work." That's when Costello brought up Trump's proposed Muslim ban.
"You agree in part with Donald Trump on banning Muslims from coming into the United States," she said. "Is that fair?"
"I don't believe in banning Muslims from coming. I think we should put a halt on immigration because our borders are broken," said Graham. "All people, but especially those coming from the Middle East right now."
The pastor explained that, while many Syrian, Iraqi, Afghani and Iranian people were "fleeing for their [lives]" into the arms of his organization's volunteers and the aid workers of countless other groups, many of these individuals are also young military-aged men whose identities and intentions aren't as easily determined as those of families.
[Image via screengrab]
— —
>> Follow Andrew Husband (@AndrewHusband) on Twitter
Have a tip we should know? tips@mediaite.com