'I Have Not Done Anything Wrong': IRS Official Lois Lerner Pleads The Fifth, Gets Dismissed From Scandal Hearing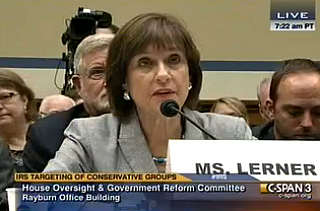 On Wednesday morning, the Director of the IRS Exempt Organizations division pleaded the Fifth Amendment during testimony before the House Oversight and Government Reform Committee, effectively refusing to answer any questions of the committee, despite protests from some members of Congress.

Lerner gave a prepared testimony before the committee, explaining that she is "proud" of the work she has done with the IRS, before asserting:
"I have not done anything wrong. I have not broken any laws. I have not violated any IRS rules or regulations and have not provided false information to this or any other congressional committee. While I would very much like to answer the committee's questions today, I've been advised by my counsel to assert my constitutional right not to testify or answer questions related to the subject matter of this hearing. After very careful consideration, I've decided to follow my counsel's advice and not testify or answer any of the questions today. Because I'm asserting my right not to testify, I know some people will assume I've done something wrong. I have not. One of the basic functions of the Fifth Amendment is to protect innocent individuals and that is the protection I'm invoking today. Thank you."
After Chairman Darrell Issa (R-CA) expressed regret over her decision to plead the Fifth, he asked her to at least verify for the committee that previous on-the-record statements were indeed hers. After she had done so, Issa asked once more if she would answer the committee's questions — a suggestion which her counsel, once again, advised against.
As Issa went to dismiss the IRS official, Rep. Trey Gowdy (R-SC) protested, telling the committee:
"She just testified or waived her Fifth Amendment right to privilege. You don't get to tell your side of the story and not be subjected to cross-examination. That's not the way it works. She waived her right by issuing an opening state and ought to stand here and answer our questions."
His remarks were met with applause from some in the crowd, but nevertheless, Issa dismissed Lerner after she refused to answer any questions twice more.
Watch the entire… awkward… ordeal below, via CSPAN-3:
— —
>> Follow Andrew Kirell (@AndrewKirell) on Twitter
Have a tip we should know? tips@mediaite.com